Support the PUPPERS Act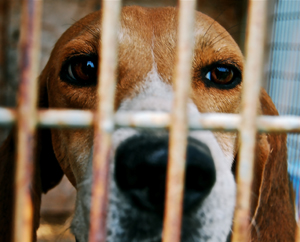 The PUPPERS Act (Preventing Unkind and Painful Procedures and Experiments on Respected Species Act), H.R. 3197, was introduced in the House of Representatives on July 12, following media reports uncovering invasive research on dogs at hospitals run by the U.S. Department of Veterans Affairs (VA). Having bipartisan support, key portions of the legislation were included in an annual appropriations bill for the Department of Defense which passed the House last week. However, that bill has several more hurdles to pass and would be in effect for only one year. So, it's important to secure the provisions in the PUPPERS Act for the longer term by passing the bill as written.
The PUPPERS Act is novel because it draws a line on the basis of severity: experiments on dogs, categorized as causing pain, are prohibited. It also focuses on a government agency, the VA, which has been widely criticized, and is intended to be primarily a service agency for veterans, not a research organization.
Most importantly, it would prevent more dogs from suffering and dying as a result of experiments in VA labs.
Please take action, and ask your Representative to support the PUPPERS Act!
Alternatives to Replace Animal Tests

AAVS's affiliate, the Alternatives Research & Development Foundation (ARDF) recently announced the recipients of its 2017 grant awards, totaling nearly $200,000. These studies include alternatives to replace animals in environmental toxicity testing, which can be particularly inhumane, a model using human cells and hormones to study breast cancer, and specialized screening to measure drug effectiveness as well as dangerous side-effects of drug treatments. Read more about these innovative approaches to non-animal methods.

UK Numbers of Animals in Labs

While the number of animals used in U.S. labs increased in 2016, animal testing is on the decline in the UK, and because their reporting system is much more transparent, more is known about which/how animals are used. For example, unlike the U.S. the UK 'counts' the number of mice, rats, birds, and fish, and experiments are categorized by type, such as regulatory testing, biomedical, or genetic. The last is of great concern since nearly 50% of all procedures in 2016 involved breeding GE mice for use in research, which has been called "out-of-control" by animal advocates.

GE Salmon on Hold

Although FDA-approved for human consumption two years ago, GE salmon has yet to hit grocery store shelves. These fish are genetically engineered to grow faster than wild salmon and there is concern that they pose a serious risk to the environment and human health. AAVS has also reported that GE is an experimental science and has serious consequences to animal welfare. In an effort to help keep GE salmon off the market, an amendment to the 2018 agriculture spending bill prohibits the sale of GE salmon until the FDA publishes labeling guidelines.