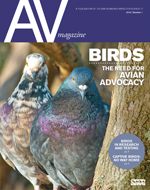 Birds are a part of our everyday lives. They are our neighbors almost everywhere—the country, city, mountains, and shorelines—and they captivate us with their beautiful colors, intricate songs, and clever personalities.

In celebration of our feathered friends, AAVS is re-releasing our AV Magazine special issue, "Birds: the need for avian advocacy" on January 5, National Bird Day. Read about birds in research and testing; living with wild turkeys; and the residents of the Foster Parrots sanctuary.

Created to raise awareness about birds and their need for protection, National Bird Day is a great time to inform others about the plight of birds in labs, captivity, and in the wild. Forwarding this e-mail and sharing our bird issue with family and friends is the perfect way to do it!