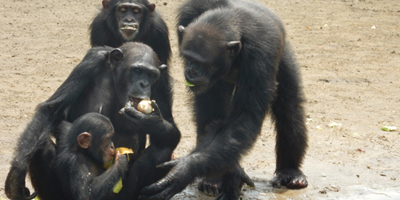 MetLife has issued a statement saying it will withhold future support until the New York Blood Center meets its responsibilities to the chimpanzees it abandoned in Liberia!
Metlife Statement on the Care of Chimpanzees in Liberia:
"MetLife has been actively urging NYBC to work with the Humane Society to reach a sustainable, long-term solution for the care of the chimpanzees in Liberia. We will continue blood collection as it is essential to support the lives of our fellow New Yorkers, but MetLife has informed NYBC that we will not consider future financial support until a solution is found."
---
MetLife is a billion dollar global company that has given hundreds of thousands of dollars in funding to the New York Blood Center (NYBC), which abandoned over 60 chimpanzees in Liberia after using them in experiments for decades. NYBC infected these chimps, as well as many more, with viruses like hepatitis and subjected them to invasive procedures, including liver biopsies. It has financially benefitted from patents derived from its research using chimpanzees, but now that it's done using these animals, NYBC refuses to take responsibility for their care.
While NYBC is ignoring pleas from the public, it might listen if a major funder like MetLife threatens to stop its support.
MetLife's Code of Conduct states that it "has built a reputation as a company that believes in fair dealing, integrity, and trustworthiness" and that it aims to "adhere to the highest standards of ethical conduct." Clearly, NYBC does not share MetLife's ethical business standards. To uphold its Code of Conduct, MetLife should immediately stop all donations to NYBC until it resumes funding for the care of the chimpanzees it abandoned in Liberia.