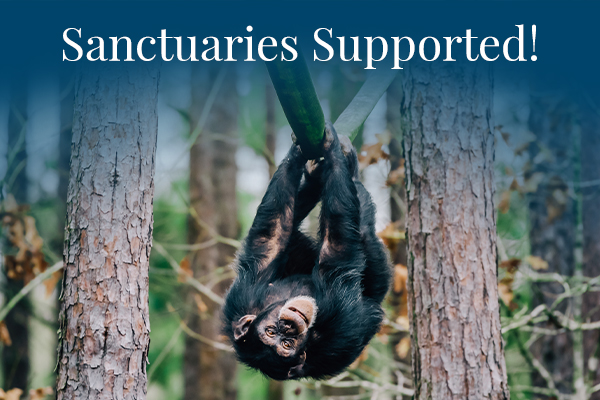 Better Lives Because of YOU!
Your AAVS is absolutely committed to supporting sanctuaries that care for animals victimized in research laboratories. For these abused animals, sanctuary staff are their guardian angels!
This week, AAVS sent out checks from our Sanctuary Fund, bringing the total of our grants awarded this year to over $350,000!
See All 2019 Sanctuary Fund Grant Recipients »
How is AAVS able to do this every year? Because of your extraordinary generosity! Our members truly love animals and give from the heart. And with that in mind…
MATCHING GIFT ALERT! A generous AAVS supporter has pledged $10,000 for the Sanctuary Fund. All donations received between now and December 31 will be doubled!
As always—you're not just making a donation, you're making a difference.
The fortunate animals who are released from laboratories need special care and considerable help to adjust and thrive in their new environment. Your thoughtful funding helps pay for critical resources and services, including: food, shelter, supplies, veterinary care, utilities, facility maintenance, and repairs, as well as the dedicated staff who care for hundreds of animals in multiple sanctuary locations.
Great News! Once again this year, we surpassed our goal to raise $50,000 for the Build It! Campaign, which this year benefits Project Chimps. New construction to accommodate more residents is underway and will continue in 2020.
And those adorable chimps Arden, Diane, Jimmy, Mason, Onyx, Quilla, and Riley are growing up so fast in their forever home at Chimp Haven, thanks to AAVS's Total Lifetime Care (TLC) fund.
After years spent in laboratories, so many animals may now experience enrichment, safety, peace, and love.
Thank you for ensuring happy holidays for the animals!