By Sue Leary, AAVS President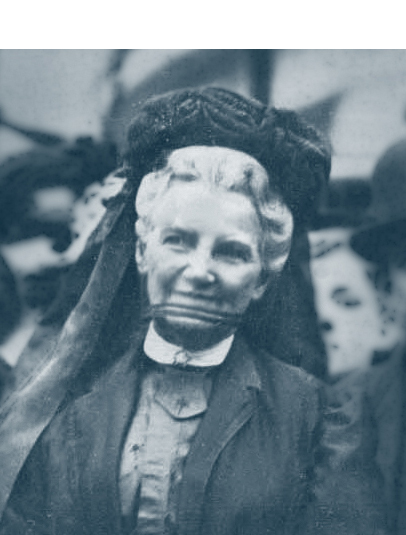 Caroline Earle White founded the American Anti-Vivisection Society in 1883, a proud achievement in itself. But her influence extended well beyond that: she was one of the three pioneering figures, along with Henry Bergh and George Angell*, who established the animal protection cause in 19th century America.
Born in 1833 to a politically influential Quaker family that worked in opposition to slavery and other social injustices, White naturally sought social reform to remedy animal suffering. Following the Civil War, she became the leading force, soliciting pledges one by one from leaders in Philadelphia society, behind the 1867 formation of the Pennsylvania Society for the Prevention of Cruelty to Animals (PSPCA). Due in part to limitations she experienced as a woman, she transformed the Women's Auxiliary into an independent organization, the Women's [Branch of] PSPCA (WPSPCA) in 1869. In this venue, her natural leadership found its full expression, and she served as President until she died in 1916.
Immediately upon receiving its charter, WPSPCA took the groundbreaking step of establishing an animal shelter in Philadelphia—the first in the U.S. Prior to that, unwanted animals, particularly stray dogs feared to spread rabies, were ruthlessly rounded up and mercilessly killed by municipal employees.
In retrospect, it may be easy to overlook its significance, but with this innovation, the WPSPCA achieved no less than the introduction in America of an enduring concept: humane animal sheltering and adoption. And by design, this model would generate imitators around the world for generations to come.
The WPSPCA had to confront medical doctors from the University of Pennsylvania and other medical colleges in the Philadelphia vicinity over their audacious demands to use dogs from the shelter for vivisection. White traveled to England to meet with antivivisection pioneer Frances Power Cobbe. With Cobbe's encouragement, she returned to the U.S. to establish the American Anti-Vivisection Society in 1883, once again achieving a 'first' of its kind in America. Affiliates in Baltimore, Chicago, and many other cities followed.
At first, White adopted a strategy of reform: to engage the scientific community in opposition to the most egregious documented abuses in laboratories and medical demonstrations, many of which, to our modern sensibilities, were unimaginably cruel. When no cooperation from the doctors and scientists was forthcoming, and, in fact, unyielding opposition and attacks mounted, the AAVS formally adopted its position of total abolition of vivisection after only a few years.
In his study, "Women and Antivivisection in Late Nineteenth-Century America," published in the Journal of Social History (Vol. 30, #4, June 1997), historian Craig Buettinger notes that in taking the abolitionist stand, White and AAVS co-founder Adele Biddle risked alienating the male members of the Society. And indeed, there was an eventual exodus of nearly all the male board members, especially physicians. However, Buettinger notes that the true leadership and daily work of the organization had been dominated by the women prior to that, so the absence of the men did not really alter operations.
Following the protocol of the time, the office of President was occupied by a man for many years, while White's formal title was Corresponding Secretary and Editor of the Journal of Zoophily, the news magazine of both the WPSPCA and AAVS. (She was a fiction writer as well.) But it was White who spoke publically on behalf of the Society in contentious correspondence, letters to newspapers, testimony to legislative bodies, and speeches.
With strong identification as a women's organization, the AAVS became a member of the National Council of Women (NCW), an alliance of major women's reform organizations, such as the Women's Christian Temperance Union. Both White and prominent AAVS leader Mary Lovell addressed the 1895 NCW convention, urging reform-minded women to see the connection of vivisection with their other moral concerns.
Does that mean they were feminists? Well, no. Dr. Buettinger's portrait of the early AAVS was interesting in this regard. Apparently, AAVS did not embrace feminism, as did the anti-vivisection movement in England under Frances Power Cobbe; nor did the feminists, or more specifically, the movement for women's suffrage, seem to embrace anti-vivisection, especially as time wore on.
Buettinger concludes that the female voices of the American anti-vivisection movement drew upon the moral authority of a woman's position as a wife, mother, and moral compass in the Victorian social construct. Morals and principles, not politics, were the arenas they chose for their battle. Even their aggressive legislative activity to pass state laws prohibiting vivisection in classrooms was argued on the basis of the moral effects on children participating in cruelty.
The translation of uncompromising moral principles into strategic action was a hallmark of White's leadership, foreshadowing the balancing act faced by today's animal rights movement. For example, while she herself was a vegetarian, White's focus for advocacy against abuse of animals raised for food centered on transport of cows before slaughter. The federal law requiring that food and water be provided every 28 hours was a proud accomplishment of activists of the day, providing relief for animals subject to desperate conditions while sent on railroad cars from western states to slaughter in the east. To enforce the law, WPSPCA stationed agents along railroad routes to telegraph ahead if they observed violations. Eventually, with the cooperation of federal officers, this vigilance resulted in key convictions.
The legacy of Caroline Earle White's 50-year career of dedicated advocacy for animals is most apparent in the organizations that she founded. But in broader terms, her legacy extends to the whole animal protection movement. Her model of strategic, informed, principled activism, and her lifelong commitment is an inspiration for all of us.
It is a privilege and source of pride for the members, board, and staff of AAVS to recall the immense contributions of our founder. And it is a thrill to know that if she were to somehow walk through our door today, we would be able to show her that we have built on her life's work, and AAVS continues to be a force for progress for animals.
* Henry Bergh formed the American Society for the Prevention of Cruelty to Animals in New York in 1866. George Angell established the Massachusetts Society for the Prevention of Cruelty to Animals in 1868.