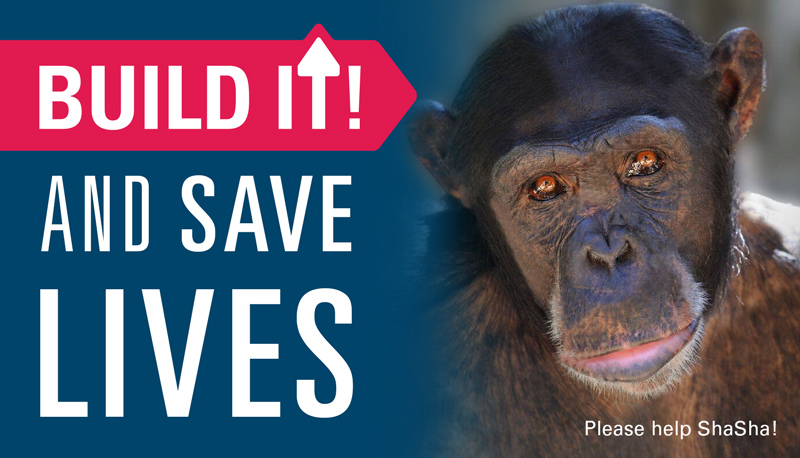 Chimpanzees are literally in the line of fire, and we've got to get them out! Can you help?
AAVS's 2020 BUILD IT! Campaign addresses an unprecedented challenge. California's Wildlife Waystation was forced to close down last year, due in part to its high risk of falling victim to increasing wildfires in the area. After the State of California took over the site, the enormous undertaking of relocating 480 residents began.
AAVS immediately responded, funding the transport of 10 monkeys and 3 chimpanzees to new sanctuary homes. But 32 more chimpanzees remain at Wildlife Waystation; they are the last animals there. Their lives began in research labs; we can't let them end in tragedy.
AAVS has joined a group of experienced sanctuaries to assist in this unique rescue effort. There is a plan for each and every one of those chimps, but your help is needed to finish this work.
Will you contribute today to BUILD IT! for these chimps? Every donation counts to get us to the big goal of the estimated $7 million needed to construct new, long-term housing.
And thanks to the generosity of anonymous AAVS supporters, all gifts made through this special appeal will be matched dollar-for-dollar. When you give $10, the Build It! fund will get $20. Your $50 gift increases to $100! And a $250 donation doubles to $500!
Please support AAVS's 2020 BUILD IT! Campaign and help ensure that these chimpanzees will land safe and sound at new forever homes in accredited sanctuaries!
Thank you!