NEWS HIGHLIGHTS
April 2020
Dear Friend,
The American Anti-Vivisection Society was founded in 1883, and we just held our 137th Annual Meeting. Thanks to the strength of our convictions and people—like you, who care about animals in labs, we have endured—through the 1918 flu pandemic, two world wars, the Great Depression, and more. Today, our work to monitor the problems with animal research and advance the solution of alternatives in chemical testing, biology education, and biomedicine, has never been more relevant. Our office is temporarily closed but our dedicated staff is working on issues you care about with more of a sense of purpose than ever before, and you are in our thoughts. We'll be in touch again later this month to share more information about what we're doing, but first, we thought you might want to catch up on some news.
Take care—the animals need you!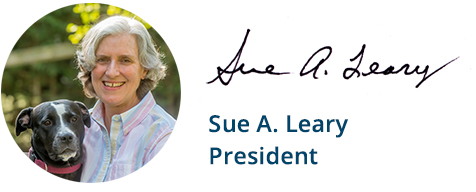 ---

As we all continue to adapt to life during the coronavirus pandemic, schools across the country are closing their doors, and more and more kids are learning from home. It can be overwhelming for teachers, parents, and students, but Animalearn is here to help! Follow Animalearn on social media to have access to the best online life science teaching resources. They're all fun and some are free! LEARN MORE »

Due to 'stay at home' orders across the country, laboratory facilities have had to drastically reduce their staff and try to manage without enough workers to properly care for animals. Labs seem to indicate that they will have enough resources to keep animals covered by the Animal Welfare Act (dogs, cats, primates). However, those not regulated, particularly mice, are being killed by the hundreds at several universities throughout the U.S. READ MORE »

Because chimpanzees can acquire other human respiratory diseases like influenza, sanctuaries are taking strict precautions to prevent passing along the coronavirus to the chimps in their care. At Chimp Haven, they are restricting some human interactions, including physical exams, social introductions, and most training sessions for 30 days. Additionally, the March transfer of chimpanzees from a Texas lab to the sanctuary has been postponed. READ MORE »
---
SANCTUARY MOMENT:
Global Federation of Animal Sanctuaries (GFAS)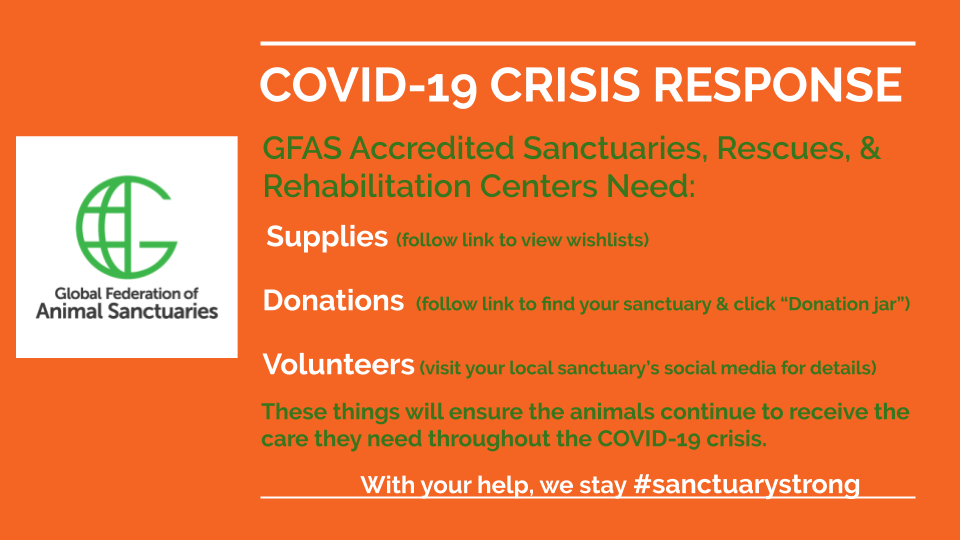 GFAS is an accreditation program that was formed to establish guidelines for animal sanctuaries to help ensure that the animals at these facilities receive the best care possible. Oftentimes, GFAS is called on when sanctuaries are in crisis or facing unfamiliar circumstances, such as the coronavirus pandemic. During this difficult time, GFAS is rallying support for sanctuaries, and so is AAVS!
Please visit GFAS on social media to learn more and to make a donation directly to a favorite sanctuary, purchase specific items from sanctuary wish-lists, and/or sharing this info with your friends and family. Every little effort helps!