NEWS HIGHLIGHTS
February 2020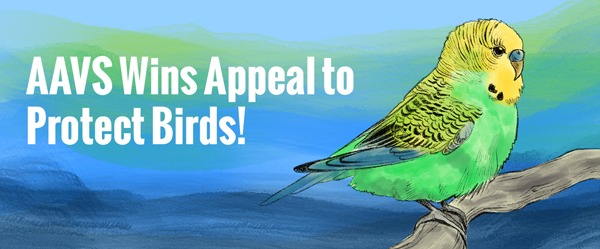 An appeals court has ruled in favor of birds in AAVS's lawsuit against the USDA for its inaction and "unreasonable delay" to create regulations for the sale and use of birds, as required by the Animal Welfare Act (AWA). This latest decision is part of a nearly two-decade long effort by AAVS and its co-plaintiff, the Avian Welfare Coalition (AWC), to secure AWA protection for birds who are exploited in commercial industries.
Because USDA has chosen to not regulate birds, exploitation and abuse of these animals continues, without accountability or public knowledge. Regulations would set standards to address serious animal welfare concerns at bird mills (the avian equivalent to puppy mills), inhumane conditions during transport, and proper living environments for flight animals, as well as the care and use of some birds in research.
AAVS President Sue Leary commented, "We are grateful that the Appeals Court judges affirmed that our case deserves to be heard. It's quite obvious that USDA is not doing what Congress mandates, but they have evaded accountability for so many years. No longer."
---

Researchers at Harvard's Wyss Institute have released a video demonstrating a new device that links multiple 'organs-on-chips' (lung-on-a-chip, liver-on-a-chip, etc.) The groundbreaking new system simulates the flow of a chemical through the organs of a human body, and can be used to provide a deeper understanding about the effectiveness and potential harm of drugs. MORE »

AAVS congratulates our Animalearn division's 2019 Humane Educator and Student of the Year recipients! These annual awards are given for contributions to humane science education, instead of harming animals in classrooms. This year's recipients are a science teacher who appears as a hologram to guide students through remarkable virtual reality dissections and a 7th grader whose science fair project shows why alternatives are better than frog dissections for her school and schools everywhere. MORE »
---
SANCTUARY MOMENT:
Project Chimps
© Project Chimps
Maverick is carrying only two apples because he shared a third with Tibi.
Companionship is very important for primates and it goes much deeper than just having a playmate to pass the time away. It's truly about relationships and empathy. Take a look at former lab chimpanzees Maverick and Tibi. During Maverick's first time exploring his new forest home, he gathered up some treats, and then went back inside his villa. Outside the camera's view, Maverick shared one of his apples with Tibi, who is older and was scared to go outside. Well, Maverick's small act of kindness was just what Tibi needed to muster up the courage to venture out! Having compassion for someone who is scared; recognizing that sharing can make another feel good; and trust that a friend would never steer you wrong shows emotional intelligence, something that is clearly not uniquely human.
Get to know the other chimpanzees living at Project Chimps by following them on social media.