NEWS HIGHLIGHTS
January 2020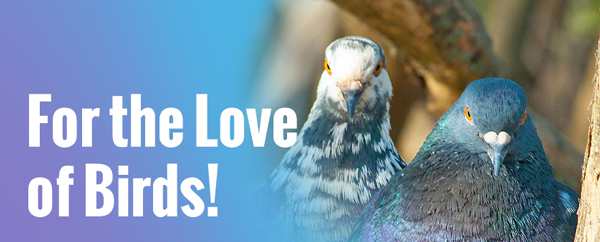 January 5 is National Bird Day! Regardless of where you live, you probably see birds almost every day. But have you ever stopped and listened to the birds who live around you? Give it a try. Watch their behavior and notice their beautiful coloring and pretty, intricate songs. Birds are so interesting!
Unfortunately, their beautiful songs also interest scientists studying cognitive function and communication. Birds like chickadees and finches are often bred specifically to be used in such testing, but many people don't know this.
The need for avian advocacy is great, so AAVS dedicated an entire issue of our AV Magazine to birds. Check it out! Reading and sharing this issue on National Bird Day are great ways to educate others about how birds are exploited and, importantly, to instill an appreciation for these wonderful animals.
---

Senators from New Mexico and Louisiana are urging the National Institutes of Health (NIH) to allow 40 chimpanzees who have been languishing in a New Mexico lab to be moved and retired to the Chimp Haven sanctuary. The Senators rightfully state that the CHIMP Act requires NIH to retire chimpanzees no longer used in research to Chimp Haven, not to remain at a lab. These chimps have been waiting for over a decade—they deserve a chance to know sanctuary life! READ MORE »

Last month, the EPA held its first annual conference on reducing the use of animals in chemical testing. The agency, once highly criticized for its reliance on tests that cause immense animal suffering, is now starting to emerge as a leader in advancing safety testing using alternatives, referred to as New Approach Methodologies (NAMs). As a sign of the wide acceptance of alternatives, the event included presentations from other agencies, regulators, industry, and alternative developers. READ MORE »

'Twas the week before Christmas, and we asked our supporters to contact USDA to demand transparency and to help thwart its efforts to establish a policy that would hide animal cruelty and neglect at licensed and registered facilities. USDA received 7,364 public comments, many of these from you! We're overwhelmed by your support—thank you! Here's an excerpt from AAVS's comments:
"Disclosure of animal welfare records addresses the legal requirement for accountability of both animal users and the agency. Fulfilling the public's right to know ensures accountability of those profiting from animal use, providing evidence that regulated facilities are—or are not—meeting the minimal standards required by the AWA. Additionally, because the regulatory process is funded by taxpayer dollars, giving public access to such information provides assurance that USDA is—or is not—adequately enforcing the law, as mandated by Congress." READ MORE »
---
SANCTUARY MOMENT:
Primates Incorporated
© Primates Incorporated
Thanks to Timon's gentle nature, he and Mars have become friends.
At first glance you may think this is just a photo of two macaques grooming, but there is a deeper meaning. While both Mars and Timon were retired from research, Mars was singly housed at the lab and it's been a little more difficult for him to trust and develop relationships. However, thanks to Timon's gentle nature, the two have become friends. In this Facebook post, the primatologist at Primates Incorporated comments that Timon's "companionship has brought a quality to life to Mars…that even the best caregiving practices couldn't match."
It's because of moments like this that AAVS supports sanctuaries that care for animals released from laboratories. Sanctuary provides the best environment for primates to heal from their years of suffering in research.
To learn more about Primates Incorporated, follow them on social media. LEARN MORE »