NEWS HIGHLIGHTS
March 2020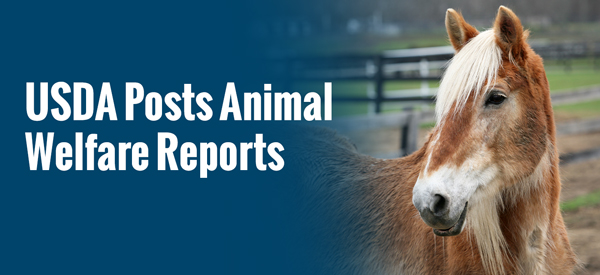 More Action Needed for Meaningful Transparency
USDA has reposted animal welfare reports from inspections at regulated facilities, which had been removed from its website without warning in 2017. The restoration of unredacted records was the result of a requirement in the federal spending bill, passed in December, specifically directing USDA to "restore on its website the searchable database and its contents that were available on January 30, 2017, and all the content generated since that date." Additional documents need to be made publicly available, including reports containing what USDA calls "teachable moments," but are actually Animal Welfare Act violations.
---

We were thrilled to see Animalearn's Humane Student of the Year, Indigo Prasad, a 13-year-old living in California, interviewed to discuss her advocacy for frogs and humane science. Indigo, who aspires to become a doctor, is working on a science fair project that focuses on alternatives to frog dissection and includes a student survey comparing traditional animal dissection to alternatives. Read the interview; you'll be impressed! READ MORE »

Primate research has been a hot button debate, particularly in recent years. The public and animal groups, including AAVS, have voiced concern about animal welfare and the ethics of using primates in research. Congress has inserted language into bills requiring certain agencies, including NIH, to explore alternatives to primate use. Yet, at its recent workshop to explore the scientific and ethical challenges of using primates, NIH failed to facilitate meaningful discussion. Instead, researchers had ample opportunity to claim that more primates and more money was needed to conduct their research. READ MORE »
---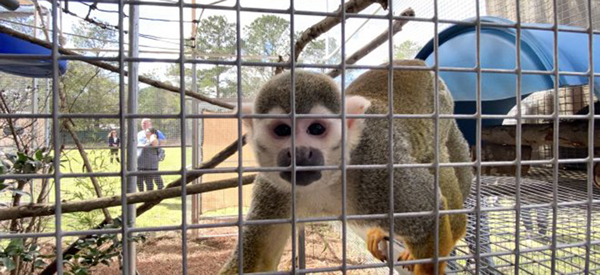 © Lexi Flechner | WUFT News
One of the squirrel monkeys retired from an FDA nicotine study.
One of AAVS's favorite sanctuaries is Jungle Friends, home to over 250 New World monkeys, including 26 squirrel monkeys who were used by the FDA in nicotine studies, and are the first primates to be retired by the agency. Recently, Jungle Friends had a ribbon cutting ceremony to celebrate the opening of the monkeys' new indoor/outdoor enclosures. The "boys" have adjusted nicely to their sanctuary home, where they can enjoy the sunshine, wind, natural plant life, and new foods—things they did not have access to during their four years at the laboratory.
Jungle Friends is a longtime beneficiary of AAVS's Sanctuary Fund, and they do a great job on social media sharing updates about the monkeys living there, so be sure to follow them!