NEWS HIGHLIGHTS
March 2021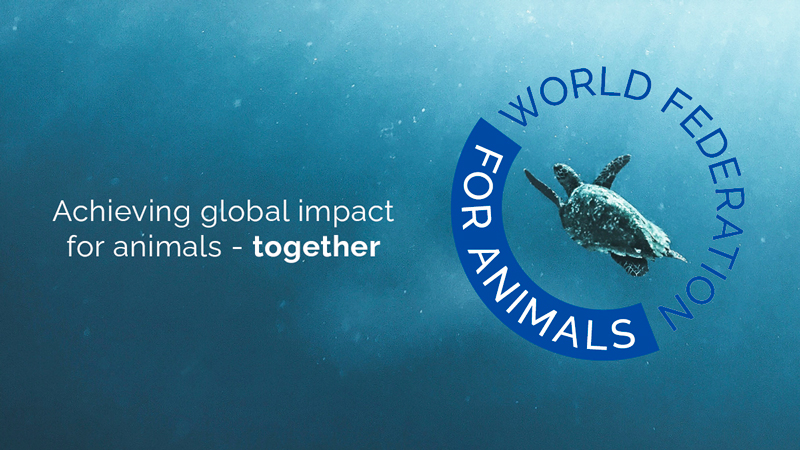 A Global Voice: The World Federation for Animals
We are excited to introduce the World Federation for Animals (WFA)! AAVS is proud to be one of the 19 Founding Member organizations making up the WFA, a new, international organization giving animal welfare a unified, global voice to elevate animal issues on the international agenda.
"As a Founding Member of the World Federation for Animals, AAVS marks this as an important milestone. This impressive new organization promises to bring progress for animals, increasing our collective influence," said AAVS President Sue Leary. "I am honored to serve on the Board with world leaders in animal protection and look forward to the fulfillment of WFA's mission to achieve global impact for animals together."
Since our founding in 1883, AAVS has brought people together to help animals and being part of the WFA is another way to do just that. While there is animal abuse and exploitation around the world, today there's also a group of committed organizations and individuals who are determined to better the lives of both animals and humans and foster societal values that are compassionate and humane. And we'll do it together!
---

China has announced that it will no longer require all imported ordinary cosmetics to undergo animal testing, starting May 1. While cruelty-free companies will still need to take numerous steps to register and sell their products in China, this is enormous progress! Stay tuned for more information. READ MORE »

A global authority on wildlife protection, the International Union for Conservation of Nature, has called on scientists and conservationists to stop posting photos of themselves in close contact with monkeys and apes because it contributes to the appeal of primates as pets. "There is a causal link between how primates are depicted and whether they survive as wild animals," said Duke University anthropologist Brian Hare, referring to the devastating traffic in wildlife for the pet trade. This is a reminder that tourists should never support 'pay to play' photos or encounters with wild animals. Love from a distance and respect the wild! READ MORE »
Canada approved the importation of 1,000 macaques from Cambodia last year for Charles River Laboratories, a U.S. based company that breeds and sells animals for use in experiments. This raises serious animal welfare concerns at multiple levels, including Cambodia's history of poor animal treatment; stress, disease, and injury associated with capturing and transporting live monkeys; possible effects on wild populations; and pain and distress resulting from use in research. READ MORE »
---
SANCTUARY MOMENT:
Born Free USA Primate Sanctuary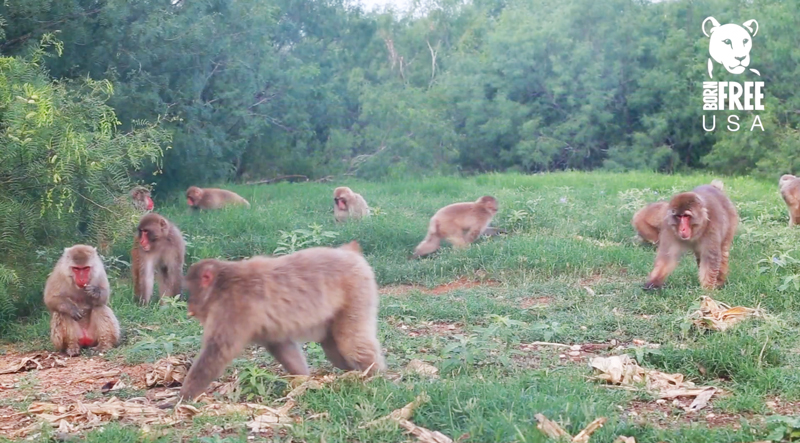 Baboons living in enclosures where they are free to roam. | © Born Free USA Primate Sanctuary
February's stormy, freezing weather hit many parts of the country hard, including south Texas, where the Born Free USA Primate Sanctuary is located. Home to over 500 primates and covering 186 acres, preparing for such a weather event could be overwhelming. However, the sanctuary has several security and safety measures in place that helped to keep the animals safe. Most of the sanctuary damage was to broken pipes that froze because there was no electricity to run the water pump.
For the past several years, AAVS has awarded grants to the Born Free Primate Sanctuary to help cover the cost of caring for primates who were released from labs and other cruel situations. One thing that makes the Born Free Sanctuary special is its huge, free-roaming enclosure, which is the size of 42 football fields. You can check it out! Just click the link below and scroll down the page to watch the sanctuary's video.