NEWS HIGHLIGHTS
October 2020

World Animal Day
A day to inspire compassion for all animals, World Animal Day is the perfect opportunity to tell others why you love animals and why you're committed to helping them. Although World Animal Day was on Sunday, it's still not too late to let others know how you feel about animals and to explain that animals matter, not because of what they can do, but rather because of who they are.
To help you spread your message, we've created downloadable images with inspirational, thought-provoking quotes for you to share on social media, e-mail to a friend, or set as your screensaver. They make great conversation starters!
---

Last Tuesday, AAVS and ARDF President Sue Leary presented comments at USDA's first virtual listening session regarding the development of Animal Welfare Act regulations to protect the welfare of certain birds not bred for use in research. Sue stressed the importance of covering wild birds who are often used in communication and neuro research. The following article describes a study where wild starlings were given fentanyl to see how the drug effects a bird's song. READ MORE »

NIH announced that it is awarding $35.5 million to 10 research studies that are using bioengineered mini organs made of human tissue to study disease and test drug treatments. The agency reports that 85 percent of drugs tested in late stage clinical trials fail because of unintended side-affects and ineffectiveness. Because these models are made of human tissue, information from these studies will be more reliable in predicting a drug's success in treating disease before reaching clinical trials and real-life patients. READ MORE »

Cruelty-free certified company, Fekkai, invited Leaping Bunny Program Manager Kim Paschen to its podcast to discuss all things cruelty-free. Topics included Leaping Bunny's requirements that make it the gold-standard cruelty-free certification and how laws in the EU affect companies that sell their products internationally. And, can a cosmetic company sell in China and still be cruelty-free? Not yet! LEARN MORE »
---
SANCTUARY MOMENT:
Chimp Haven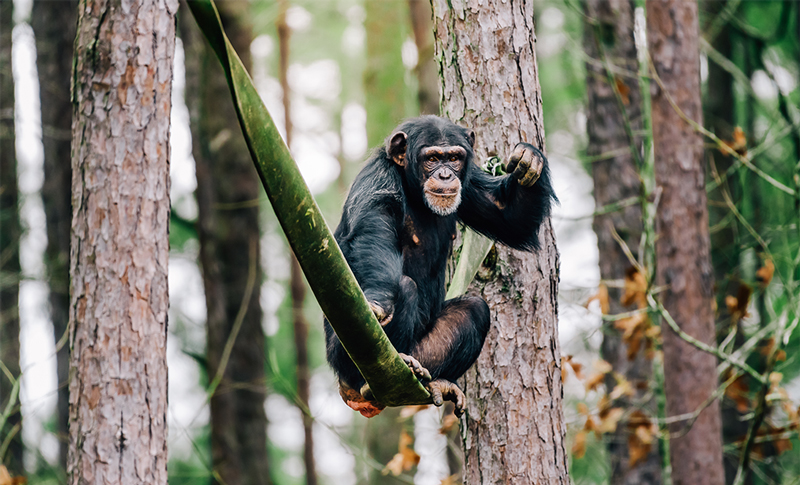 © Chimp Haven
AAVS was excited to learn that the National Chimpanzee Sanctuary, Chimp Haven, is going to be featured in the new National Geographic series, "Meet The Chimps!" It's been described as a "real-life drama" that "gives unparalleled access to everything happening at Chimp Haven, including food squabbles, alliances, romances, 'bromances,' tears, tantrums, high jinxes, and heartbreaks." We're also thrilled that Riley, Mason, and Arden, three of the TLC Chimps whom AAVS supports for their lifetime care, are featured in the show. The six-episode series is narrated by Emmy Award winning actress Jane Lynch and will air on Disney+, starting on Friday, October 16.
Chimp Haven is home to over 300 chimpanzees who have been retired from research and given a second chance at life at the sanctuary. AAVS has supported Chimp Haven for many years through our Sanctuary Fund and our Total Lifetime Care (TLC) for Chimps giving campaign. Be sure to check out "Meet The Chimps" on October 16!