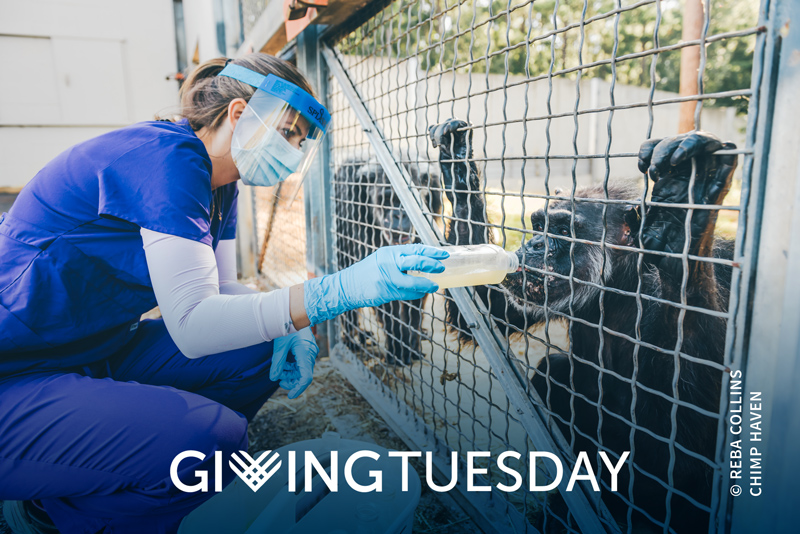 Support Essential Sanctuary Workers
#GIVINGTUESDAYNOW
The wonderful people who care for animals in sanctuaries can't stay safe at home during the COVID-19 pandemic. The animals need them, and they need us.
Will you give today to honor the people who care for animals in sanctuaries?
Over the past four decades, AAVS has supported sanctuaries that care for animals formerly used in research. It's always rewarding when we hear that the chimps, monkeys, and other animals enjoy their new homes, make new friends, and grow more healthy and confident.
However, all of that positive progress would not be possible without the special people whom the animals see every day, who get to know their individual needs and preferences, and who help make the animals' lives better.
Both staff and volunteers endure long shifts, tiring labor, extreme weather conditions, and sometimes dangerous situations, and they do so with patience, dedication, and a lot of love. Caregivers deal with everything, and truly are the unsung heroes of sanctuaries!
Please express appreciation for sanctuary animal caregivers with a special gift today.
Because of the ongoing crisis, animal sanctuaries are not able to conduct normally scheduled events such as open houses and visitor days, which are lost opportunities to engage and educate the public, and attract sponsors. This is why it is so important to help them now.
AAVS promises to donate 100% of all funds raised today to honor the staff of sanctuaries that need help covering gaps in their budget, now.
Through your generous support, AAVS has been able to award over $2.5 million in grants to worthy sanctuaries over the years. But they have never needed our support more.
Thank YOU for caring today and every day!