NEWS HIGHLIGHTS
December 2019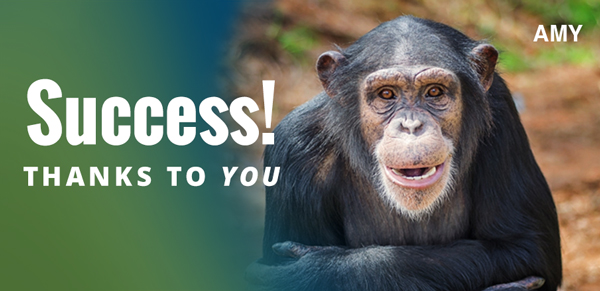 Photo by Crystal Alba | © Project Chimps
Your donations help build new home for chimps
In October, AAVS announced a $25,000 matching gift opportunity for our Build It! Campaign, which funds the construction of new living spaces at sanctuaries. We are happy to report that we have not only met, but exceeded, our goal! That's over $50,000 to help provide a safe, secure home for animals released from laboratories. THANK YOU!!
This year's recipient is Project Chimps, a sanctuary located in the Blue Ridge Mountains of Georgia that cares for 79 chimpanzees who were released from the New Iberia Research Center. Unfortunately, 150 chimps remain at this lab. Thanks in part to your generous donations, we hope that construction at the sanctuary will begin in the near future, so these 150 chimpanzees will call Project Chimps home, too!
You can still help sanctuaries that care for animals who have been used and abused in science by donating to AAVS's Sanctuary Fund.
---

The Humane Cosmetics Act of 2019 has been introduced in Congress with bipartisan support. With a greater emphasis on the development and use of alternatives, this new and improved version of the Humane Cosmetics Act provides a more comprehensive approach to end the use of animals to test cosmetic products than previous versions. One key requirement is for FDA to create a plan to promote the development and use of alternatives and strategies to replace animal tests with alternatives. Read AAVS's statement »

While improvements in technology have led to the development and use of reliable alternatives, certain fields of study have obstacles that have proven difficult to overcome, and neurology is a prime example. However, a promising new model constructed of human tissue, called the nerve-on-a-chip, could be a game-changer. Scientists have used this model to study how to promote new nerve growth and more recently learned that it could be used to test the effects of cancer drugs on the peripheral nerves of patients. READ MORE »
---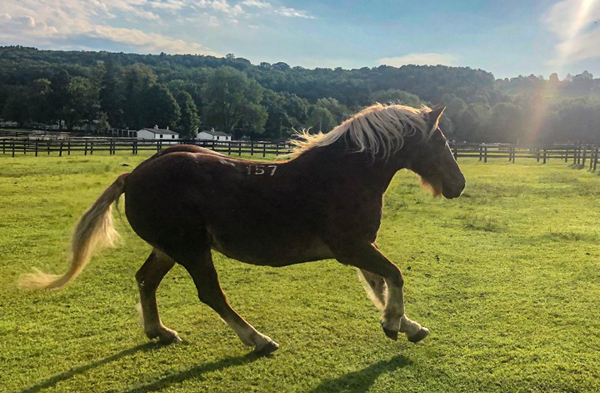 Photo by Melissa Murray | © Equine Advocates
Previously confined at a PMU farm, Annie now has the freedom to gallop wherever she chooses.
Annie is a happy Belgian Draft horse who lives at Equine Advocates Rescue & Sanctuary, a longtime recipient of AAVS Sanctuary Grants. Notice the number on her back? She was known as 157 at the PMU (Pregnant Mare Urine) farm, where she was kept confined to a small stall and attached to tubing so her urine could be collected and used to make hormone replacement drugs. Now she spends her days doing as she pleases, along with her bestie Melanie and other horses rescued from PMU farms, in 'The Big and the Beautiful' field. Check out more beautiful photos of the residents at Equine Advocates by following them on social media. READ MORE »