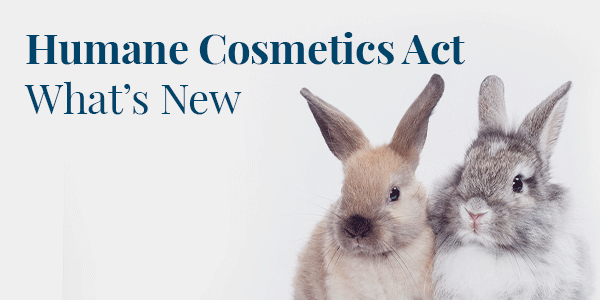 Promising Future for Animals & Alternatives
On November 18, the Humane Cosmetics Act of 2019 was introduced to both chambers of Congress. With a greater emphasis on the development and use of alternatives, this new version of the Humane Cosmetics Act provides a more comprehensive approach to end the use of animals to test cosmetic products than previous versions.
Important points in the bill:
Applies to all vertebrate animals, including mice, rats, and fish, who are not covered by the Animal Welfare Act, and are the most used animals in safety testing.
Includes criteria for 'cruelty-free' labeling.
FDA is directed to create a strategic plan to promote the development and use of alternatives and strategies to replace animal tests with alternatives.
Requires opportunity for public comment on the FDA plan and exemptions for animal testing.
Supported by industry group, the Personal Care Products Council.
As the Chair of the Coalition for Consumer Information on Cosmetics, AAVS manages the Leaping Bunny Program and helps companies acquire cruelty-free certification, so we know that non-animal methods are already being used to establish safety of cosmetic and personal care products. The Humane Cosmetics Act of 2019 presents the most decisive way forward for meaningful progress to end animal testing.
Read AAVS's statement of support on the Humane Cosmetics Act of 2019
READ IT NOW