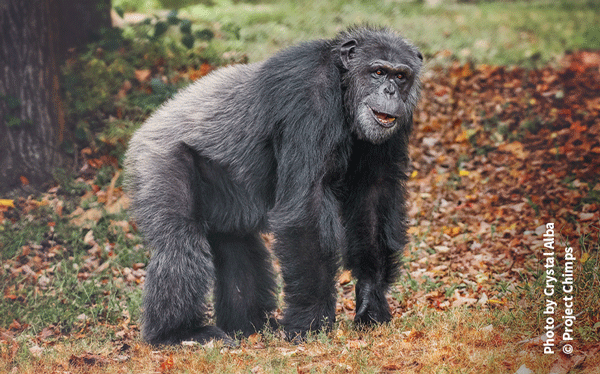 Kareem wants his friends to move to Project Chimps!
They ALL Deserve Sanctuary
Chimps can't wait to 'retire' from research! YOU can make it happen, and now is the time.
Thanks to several generous AAVS donors, every contribution received this month will be DOUBLED. Any amount you can give is worth twice as much! Your greatly appreciated gift will help more chimpanzees retire.
Meet Kareem—A Survivor
Like so many chimpanzees born in research facilities, Kareem was pulled from his mother when just a few days old and raised by humans in a lab nursery, trusting in their care. When he grew older, because of his apparent physical and psychological strength, he was shipped off to a notorious research facility which performed all kinds of extreme experiments.
Over nearly three decades, Kareem would be separated from friends, and subjected to multiple biopsies and experiments in laboratories in four different states. But the power of his personality forged social connections with other chimps and caretakers. Kareem was strong, inside and out, so he survived.
On November 7, 2018, he arrived at Project Chimps and finally found a place to be free. He will never again have to leave his friends or be subjected to experiments. He now roams the woods and buildings of Project Chimps with other chimpanzees as the leader of his social group. His needs are met by people who love him. Kareem is home.
Through BUILD IT!, AAVS is striving to ensure that ALL retired chimpanzees like Kareem have a safe, satisfying, permanent home. But we're still short of our goal of $25,000. Can you help?
Thank you!