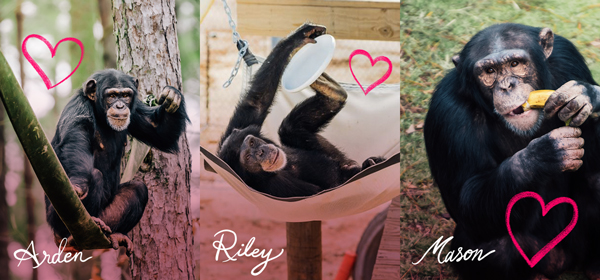 Happy Valentine's Day from AAVS!
Chimp Haven, the world's largest chimpanzee sanctuary, is home to over 300 residents. At the sanctuary, chimpanzees formerly used in biomedical research spend their days in an environment designed especially for them, complete with expert veterinary care, healthy foods prepared daily, multi-acre forested habitats to explore, and large, dynamic social groups.
Through our TLC for Chimps Fund, AAVS made a commitment to provide Total Lifetime Care for seven chimps who arrived at Chimp Haven as babies in 2013. Every Valentine's Day, AAVS commemorates their release from a lab with our annual grant designated for their care.
We are happy to keep you updated on the TLC youngsters because you are an essential partner in this great work, and help to ensure the future of the chimpanzees. Here's what they're up to:
Most staff agree that Jimmy (10) will eventually become the leader of his group. However, Jimmy is happy to be a young, part-time trouble-maker for now.
Quilla (9) was among the first to be introduced to a new, immense corral. A fearless explorer, she climbed all the way to the top of the platforms to survey her new view.
Independent Onyx (9) has also loved exploring the new corral. And she's been spending less time with the 'kids' and more time cuddling with mom, Bumble.
Gorgeous Arden (11) excels in the role of 'big sis' to two-year-old Carlee. Arden takes Carlee on adventures through their habitat, and tolerates Carlee bopping her on the head for a banana!
Diane (10) has not lost her mischievous streak, and continues to keep staff on alert with her well-targeted spitting skills. Like Arden, she also loves hanging out with Carlee.
Mason (10) is still very much the epitome of a teenage boy. He's rowdy, loves to play, and occasionally finds himself in minor trouble as a result of his endless curiosity.
When moved into the new corral last summer, Riley (8) immediately claimed dibs on a big, comfy hammock. But Riley also loves to be in the middle of the action, too.
Your support has been vital in helping Chimp Haven to maintain a permanent home for chimpanzees so they may enjoy a proper retirement filled with choice, comfort, and compassion. You make a difference!
Thank You!