Deadline to submit comments is this Friday, August 10
FOR CHIMPANZEES who are owned and supported by the U.S. government, and have been kept—and suffered—in labs for decades, 'home' is Chimp Haven, The National Chimpanzee Sanctuary, in Keithville, Louisiana. As of July 13, 255 chimpanzees are already there, waiting for their friends, old and new, to arrive.
The time is now! Hundreds more are waiting at Alamogordo Primate Facility in New Mexico, the Southwest National Primate Research Center in Texas, and the Keeling Center for Comparative Medicine and Research, also in Texas. The labs claim that the chimpanzees are better off with them, and NIH is poised to bow to their pressure.
But every chimpanzee deserves the chance to know sanctuary life. We can't give away their shot at a full and happy life!
At this critical moment, we need to raise our voices in their defense and tell NIH to send all chimps to 'real' retirement, at Chimp Haven.
It's true that most of the retired chimpanzees know nothing else but life in a lab, and some of them have not fared very well, so moving them and giving them a happy new life will require extra care. But sanctuaries are the experts at doing exactly that! And, rather than erect roadblocks to retirement, the labs could do much more to help pave the way. For instance, they could provide more detailed medical histories and send caregivers along so that the chimpanzees see familiar faces in the first days at sanctuary.
But classifying chimpanzees as 'unable to be moved' and then leaving them stuck in labs for the rest of their lives is not an option! As Carole Noon, founder of Save the Chimps, said:
"All we have to do is give them half a chance.
They'll do the rest."
Sanctuaries make miracles. We recently heard this story from the wonderful sanctuary, Save the Chimps, about one of their most beloved chimpanzee residents, Henrietta. 'Henri' was found in the section of a lab in New Mexico called "the dungeon," seeming elderly and frail. Henri spent many years in barren cages, so it's not surprising that she did not appear very healthy. But after moving to sanctuary, she enjoyed 14 years of a full sanctuary life. She was easy to spot on her island home, because she was very social and spent lots of time with her new 'family' of 20 other chimpanzees, and she doted on a favorite baby doll. Henri died recently but, after being born in Africa in the 1960s, and surviving laboratory experiments for many years in the U.S., her life ended in a happy, peaceful place and with those who loved her.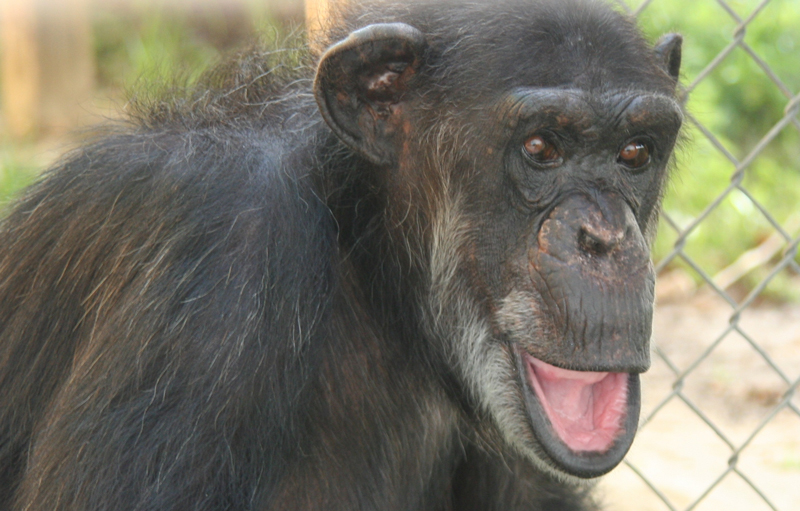 © Save the Chimps
Shouldn't every chimpanzee be given the same chance as Henrietta?
Will you help?
Bring Them Home! Tell NIH to send all government owned and supported chimpanzees to their rightful home at Chimp Haven.
What you can do
NIH is seeking public input on recommendations made by the agency's Council of Councils regarding the decision of moving government-owned and -supported chimpanzees from labs to sanctuary at Chimp Haven. NIH is only accepting comments submitted through its website. Please follow the directions below and feel free to copy and paste the sample comments. NOTE: While it's important for the public to provide input on this issue, we feel it's only necessary to respond to Recommendations #1 and #6, and include "Additional Comments" in the very last box. AAVS will be sure to address every recommendation in our expanded comments.
Deadline to submit comments is this Friday, August 10!
Go to NIH website.

Once there, scroll down and provide your e-mail, city, and state. Enter your comments in the boxes for "Recommendations 1 and 6" and "Additional Comments." When finished, scroll down to where it says "Notes." Below, there is a reCAPTCHA box. Click to indicate you are "not a robot." Then click "Submit," and you're done. Thanks for taking action!

Recommendation 1

The NIH and the facilities that house NIH-owned and NIH-supported chimpanzees should relocate all of these chimpanzees to the federal sanctuary system unless relocation is extremely likely to shorten their lives.
(1) I firmly believe that ALL chimpanzees should be retired and moved to sanctuary. (2) I am worried about the sick and elderly being denied their chance to experience the healing environment of a sanctuary. (3) Experts can transport chimpanzees while minimizing risks. (4) The benefits of sanctuary are immeasurable.

Recommendation 6

When facilities disagree about whether to relocate a chimpanzee, independent expert veterinary opinion should be sought to inform the relocation decision.
If chimpanzees are classified as 'too risky to move,' those classifications should automatically be reviewed by an expert panel. In addition to a veterinarian with sanctuary/zoo experience, this should include independent specialists in behavior, psychological health, and management, who can address important concerns such as social groups. This is essential because the labs where the NIH chimpanzees currently live have a conflict of interest.

Additional Comments

As a taxpayer, I am concerned that NIH does not have a good plan to retire all chimpanzees from labs as promised. A plan is urgently needed and should prioritize on the basis of need and the overall wellbeing of each chimpanzee. As humans, our environment and those around us can greatly impact how we feel, and I believe it's the same for chimps. Please send ALL the NIH-owned and –supported chimpanzees to Chimp Haven.