Support Our Mission
Please support our vital campaigns and outreach programs.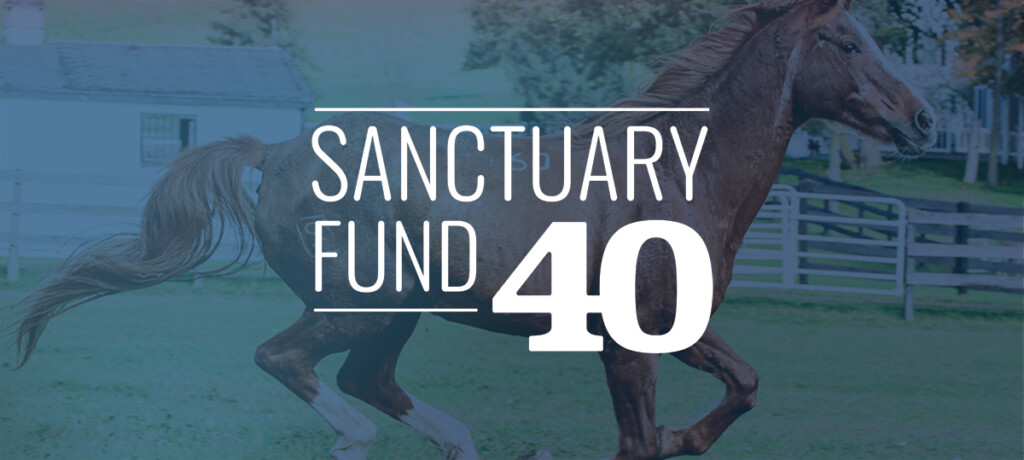 Good news! Some animals in labs are being given a second chance. With the help of our members, AAVS provides direct support to care for animals who were once used in science or exploited in other ways.
Click here to contribute to the care of animals in sanctuaries.
In recognition of the 40th anniversary of AAVS's first grant, special veterinary care supplements of $2,500 each were offered to sanctuaries applying for annual grants. The following sanctuaries were awarded AAVS grants in 2022:
The Center for Great Apes was established in 1993 to offer permanent haven for orangutans and chimpanzees who've been retired from the entertainment industry, research, or no longer wanted as pets. This year's grant helps to provide veterinary care for former lab chimpanzees and orangutans like Mari, a resident orangutan who lost her arms as an infant at the Yerkes Primate Research Center in Atlanta.
Established in 1995, Chimp Haven serves as the National Chimpanzee Sanctuary, caring for chimps who have been retired from federally funded research programs. Following the announcement by the National Institutes of Health in 2015 that all government-owned chimpanzees would be retired, Chimp Haven has been extremely busy making accommodations for new residents. AAVS grants funds annually for support of a group of young chimpanzees who came to the sanctuary as babies, and for general operating costs of this amazing place.
In 2008, CSNW became home for seven chimpanzees who were relinquished by a Pennsylvania laboratory, where they were primarily used in hepatitis research and as breeders. Additionally, CSNW has welcomed several former research chimpanzees from the defunct Wildlife Waystation: three chimps in 2019 and six more in 2021. All the chimpanzees now enjoy attentive caregivers, spacious and enriching indoor housing, and the warmth of sunshine as they live and play as a family in the new, two-acre outdoor 'exploratorium.' AAVS support helps with ongoing care and a special grant in 2022 covered additional costs of facility expansion for the Wildlife Waystation chimps.
The mission of this primate sanctuary is to provide "exceptional, compassionate, lifetime care for non-human primates." OPS has taken in some of the neediest cases from labs and neglected pet situations, and remarkably, these primates have recovered physically, emotionally, and socially. The sanctuary residents include over 80 monkeys, roughly half of whom were formerly used in research. AAVS provides crucial funding for staffing, food, and medical attention to ensure that these monkeys are given the best of care.
Primarily Primates houses, protects, and rehabilitates various primate species, focusing primarily on caring for apes and monkeys. Many are cast-offs from the pet trade and biomedical research facilities. AAVS provides operating support for chimpanzees who came in 1996 from the Buckshire Corporation, which supplied chimps to labs, and from the Wildlife Waystation in California. Funds are used for these animals' specialized care management, specialized diet and nutrition management, and social companionship and behavior management with enrichment activities that meet the chimpanzees' needs.
Project Chimps was founded in 2014 to take in and care for privately-owned chimps used in biomedical research. They negotiated the release of chimpanzees from the New Iberia Research Center, and will provide them with appropriate lifetime care. With our first grant to purchase the customized trailer to transport chimps to the sanctuary, AAVS has ensured that all those chimps will arrive safely in Georgia. Generous funding from our 2022 BUILD IT! campaign will help cover costs of Project Chimps' expansion of their facilities to accommodate nearly 100 chimpanzees waiting to be transferred from the Louisiana facility.
AAVS provides support to Equine Advocates for the ongoing care of the many resident equines who were mares or foals from the Premarin industry, which exploits female horses for the production of estrogen replacement drugs. Since 1996, Equine Advocates has helped rescue thousands of horses, ponies, donkeys, and mules from slaughter, abuse, and neglect. The veterinary care costs at this wonderful sanctuary are significant, due to the challenging situations the animals had to endure before they arrived, and AAVS's grants go largely toward those expenses.
Save the Chimps was initially established to provide sanctuary for 21 retired Air Force chimpanzees used in the space program. Today, it cares for nearly 221 chimpanzees rescued from laboratories, who now live in large family groups on 12 separate three-acre islands. The majority of its residents are chimps who were used in experiments at the notorious Coulston Foundation, a biomedical research laboratory that had a long history violating the Animal Welfare Act. This year's grant includes extra funds to help with veterinary care for the aging residents of this sanctuary, which also took in some of the Wildlife Waystation chimps in 2022.
Opened in 2016, Peaceable Primate Sanctuary is the first facility in North America built to provide an enriching and stimulating permanent home for baboons retired from research and rescued from the pet trade. The sanctuary is now accepting macaques as well, due to the demand for space and an increasing number of monkeys being released from labs. This year's grant will go towards the sanctuary's general operating costs and veterinary care.
Pennsylvania's rolling farmland is home to Ryerss, founded in 1888. This 'retirement community' of horses over the age of 20 has enjoyed AAVS support for many years. In addition to caring for horses who need a home because owners have passed away, Ryerss has a long history of rising to the occasion to provide care for horses in crisis. They include some who had been used in production of snake anti-venom at a pharmaceutical company; foals from the Premarin industry; and horses who were victims of abuse and neglect, in need of emergency housing.
This primate sanctuary and rehabilitation center has received grants from AAVS to provide continued support for the care of monkeys who were once used in laboratories. Located in Florida, the sanctuary is unique in specializing in care of new world monkeys, including marmosets, a small, tree dwelling primate native to South America. Because of their special needs, marmosets usually do poorly in captivity (which is one of the reasons they have no place in labs), but Jungle Friends has had success in giving them what they need to be happy and healthy. Jungle Friends recognizes the special needs of animals released from labs, and this year's grant is meant to provide support for veterinary care, staffing, and fresh food.
Born Free USA's Primate Sanctuary provides nonhuman primates with high quality care in a naturalistic setting, minimizing human interference. The 186-acre sanctuary is home to over 500 residents, many of whom were rescued from abusive or exploitative situations. After a large, east coast laboratory stopped conducting research on baboons in 2013, nine females—Pearl, Missy, Chloe, April, Friendly, Spicy, Brooke, Kennedy and Lulu—were granted freedom. They now experience fresh air, sunshine, grass, trees, large open spaces, and the opportunity to thrive in each other's company. AAVS's grant to Born Free will provide ongoing care for those baboons, as well as the sanctuary's many monkey residents who were formerly used in research.
This relatively new sanctuary will help meet the increasing demand for retirement space for monkeys released from labs. Primates Incorporated currently cares for old world monkeys, including several macaques and two vervets. Because it's a small sanctuary, this year's grant is to help cover general operating costs, such as food, enrichment, veterinary care, and staff pay.
Located in Texas, Wildlife Rescue and Rehabilitation is home to around 600 animals, including primates who have been retired from research. In the past, AAVS funding was used to build various enrichment structures that encourage natural primate behaviors like climbing and foraging, as well as places to lounge with friends. This year's grant will go towards general operating costs and the sanctuary's nutrition program which helps ensure that the animals maintain a balanced, healthy diet.
Located in Kentucky, the Primate Rescue Center is home to nearly 50 primates formerly used in research, the pet trade, or rescued from other abusive situations. AAVS's grant will be used to cover operational costs and for special veterinary care.
Formed in 2007 with the guidance and aid of several globally recognized leaders in the field of animal advocacy, including AAVS, the Global Federation of Animal Sanctuaries (GFAS) serves to 'help sanctuaries help animals.' GFAS provides standards developed by experts and onsite operations reviews in order to help sanctuaries provide the best care for animals. GFAS is also called on when sanctuaries are in crisis or transition, utilizing its network and resources to ensure that animals are safe, secure, and well cared for.
NAPSA was founded in 2010 by the directors of seven of the leading chimpanzee sanctuaries in North America, to share information, experience, policies, and procedures, in an effort to increase the success of each member sanctuary. It also serves as a central point of contact and expertise for issues relating to captive primates. For example, when the Wildlife Waystation facility closed in 2019, NAPSA stepped up to successfully coordinate the 3-year campaign for placement of all of the chimpanzees, in order to ensure appropriate forever homes. While AAVS provided direct support to many of the sanctuaries that took in animals as part of that campaign, AAVS's 2022 grant to NAPSA will cover its operational costs, and hosting a workshop for education and advancement of primate sanctuaries.