She was pregnant when she arrived at the sanctuary. That's not surprising, though, because Peggy spent most of her life confined to a small stall on a PMU farm. She was repeatedly impregnated and her urine collected to make the hormone replacement drug, Premarin (PMU), which is sold to millions of women worldwide.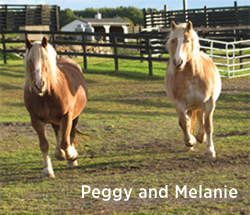 Animals who have been used to make drugs and abused in laboratories need and deserve loving care. Part of the AAVS mission is to help animals released from labs, and AAVS has awarded grants totaling well over $1 million to deserving sanctuaries.
Fortunately, Peggy was saved, and soon after arriving at an equine sanctuary, she gave birth to a daughter, Melanie. Today, these two gals spend much of their time at pasture, free to romp and run as much as they desire.
You can be a part of the story of healing and joy for animals, like Peggy, who have suffered so much. AAVS commits that 100% of gifts to the Sanctuary Fund will go directly to caring for animals, so please give generously. Thank you!