Understanding Chimpanzees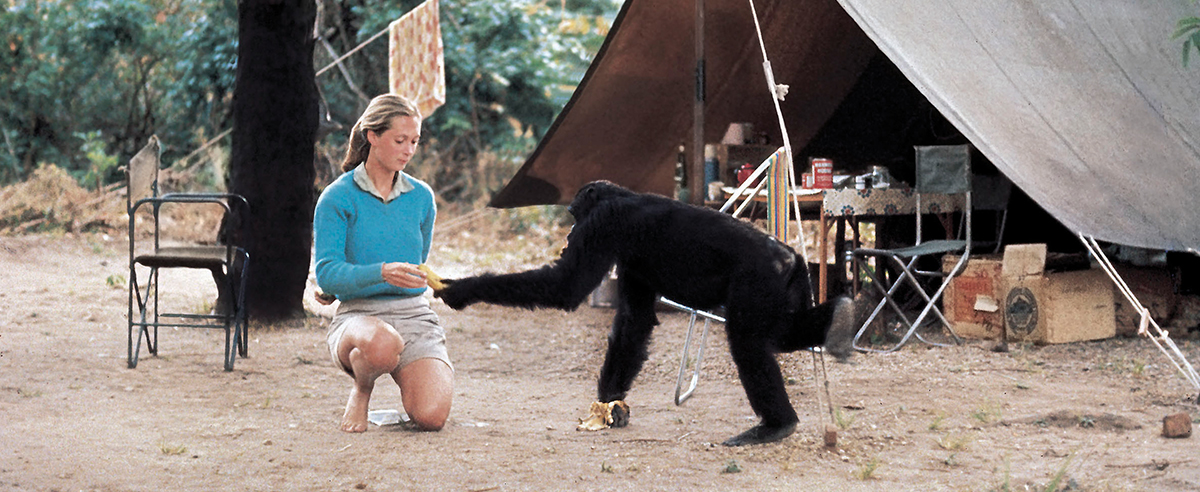 Photo Courtesy of Jane Goodall Institute / Hugo Van Lawick
by Jane Goodall
Jane Goodall's vast and intimate knowledge of chimpanzee behavior has changed the way humankind views its closest evolutionary kin. Here, she describes her early years studying chimpanzees where they naturally exist, where they truly belong.
When I began my study in Gombe in 1960 it was not permissible—at least not in ethological circles—to talk about an animal's mind. Only humans had minds. Nor was it quite proper to talk about animal personality. Of course everyone knew that they did have their own unique characters—everyone who had ever owned a dog or other pet was aware of that. But ethologists, striving to make theirs a "hard" science, shied away from the task of trying to explain such things objectively. One respected ethologist, while acknowledging that there was "variability between individual animals," wrote that it was best that this fact be "swept under the carpet." At that time ethological carpets fairly bulged with all that was hidden beneath them.
How naïve I was. As I had not had an undergraduate science education, I didn't realize that animals were not supposed to have personalities, or to think or to feel emotions or pain. I had no idea that it would have been more appropriate to assign each of the chimpanzees a number rather than a name when I got to know him or her. I didn't realize that it was not scientific to discuss behavior in terms of motivation or purpose. And no one had told me that terms such as childhood and adolescence were uniquely human phases of the life cycle, culturally determined, not to be used when referring to young chimpanzees. Not knowing, I freely made use of all those forbidden terms and concepts in my initial attempt to describe, to the best of my ability, the amazing things I had observed at Gombe.
I shall never forget the response of a group of ethologists to some remarks I made at an erudite seminar. I described how Figan, as an adolescent, had learned to stay behind in camp after senior males had left, so that we could give him a few bananas for himself. On the first occasion he had, upon seeing the fruits, uttered loud, delighted food calls: whereupon a couple of the older males had charged back, chased after Figan, and taken his bananas…. I explained how, on the next occasion, Figan had actually suppressed his calls. We could hear little sounds, in his throat, but so quiet that none of the others could have heard them. Other young chimps, to whom we tried to smuggle fruit without the knowledge of their elders, never learned such self-control. With shrieks of glee they would fall to, only to be robbed of their booty when the big males charged back.
I had expected my audience to be as fascinated and impressed as I was. I had hoped for an exchange of views about the chimpanzee's undoubted intelligence. Instead there was a chill silence, after which the chairman hastily changed the subject….[A]fter being thus snubbed, I was very reluctant to contribute any comments, at any scientific gathering, for a very long time…. I suspect that everyone was interested, but it was, of course, not permissible to present a mere "anecdote" as evidence for anything.
The editorial comments on the first paper I wrote for publication demanded that every he or she be replaced with it, and every who be replaced with which. Incensed, I…crossed out the its and whiches and scrawled back the original pronouns. As I had no desire to carve a niche for myself in the world of science, but simply wanted to go on living among and learning about chimpanzees, the possible reaction of the editor of the learned journal did not trouble me…. I won that round: the paper, when finally published, did confer upon the chimpanzees the dignity of their appropriate genders and properly upgraded them from the status of mere "things" to essential Being-ness….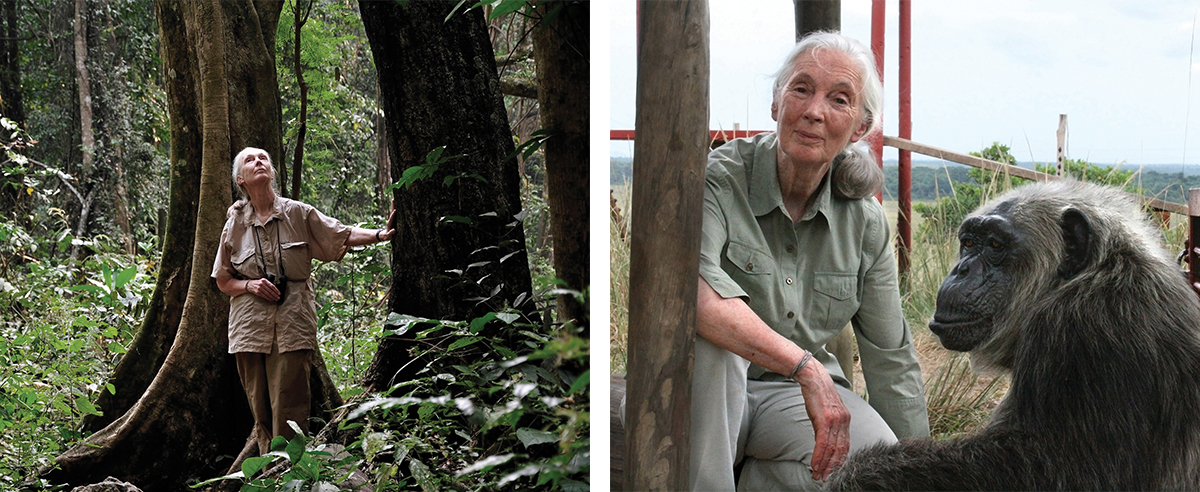 Photos Courtesy of Jane Goodall Institute / Fernando Turmo and Chase Pickering
It is not easy to study emotions even when the subjects are human…. As we try to come to grips with the emotions of beings progressively more different from ourselves, the task, obviously, becomes increasingly difficult. If we ascribe human emotions to non-human animals we are accused of being anthropomorphic—a cardinal sin in ethology. But is it so terrible? If we test the effect of drugs on chimpanzees because they are biologically so similar to ourselves, if we accept that there are dramatic similarities in chimpanzee and human brain and nervous system[s], is it not logical to assume that there will be similarities also in at least the more basic feelings, emotions and moods of the two species?
In fact, all those who have worked long and closely with chimpanzees have no hesitation in asserting that chimps experience emotions similar to those which in ourselves we label pleasure, joy, sorrow, anger, boredom and so on. Some of the emotional states of the chimpanzee are so obviously similar to ours that even an inexperienced observer can understand what is going on. An infant who hurls himself at any nearby object, banging his head, is clearly having a tantrum. Another youngster, who gambols around his mother, turning somersaults, pirouetting and…rushing up to her and tumbling into her lap, patting her or pulling her hand towards him in a request for tickling, is obviously filled with joie de vivre.… And one cannot watch chimpanzee infants for long without realizing that they have the same emotional need for affection and reassurance as human children. An adult male, reclining in the shade after a good meal, reaching benignly to play with an infant or idly groom an adult female, is clearly in a good mood. When he sits with bristling hair, glaring at his subordinates and threatening them, with irritated gestures, if they come too close, he is clearly feeling cross and grumpy. We make these judgments because the similarity of so much of a chimpanzee's behavior to our own permits us to empathize.
Some of the emotional states of the chimpanzee are so obviously similar to ours that even an inexperienced observer can understand what is going on.
It is hard to empathize with emotions we have not experienced…. I have spent countless hours watching mother chimpanzees interacting with their infants. But not until I had an infant of my own did I begin to understand the basic, powerful instinct of mother-love. If someone accidentally did something to frighten [my son] Grub, or threaten his well-being in any way, I felt a surge of quite irrational anger. How much more easily could I then understand the feelings of the chimpanzee mother who furiously waves her arms and barks in threat at an individual who approaches her infant too closely, or at a playmate who inadvertently hurts her child. And it was not until I knew the numbing grief that gripped me after the death of my second husband that I could even begin to appreciate the despair and sense of loss that can cause young chimps to pine away and die when they lose their mothers.
Empathy and intuition can be of tremendous value as we attempt to understand certain complex behavioral interactions, provided that the behavior, as it occurs, is recorded precisely and objectively…. And "knowing" intuitively how a chimpanzee is feeling–after an attack, for example–may help one to understand what happens next. We should not be afraid at least to try to make use of our close evolutionary relationship with the chimpanzees in our attempts to interpret complex behavior.
Excerpted (and edited for length) from Through a Window: My Thirty Years with the Chimpanzees of Gombe (Houghton Mifflin Company, 1990), which was revised and republished in 2010. More information about Dr. Goodall's biography, honors, studies, and programs on behalf of people, chimpanzees, and the environment can be found at www.janegoodall.org and www.rootsandshoots.org.