Support Our Mission
Please support our vital campaigns and outreach programs.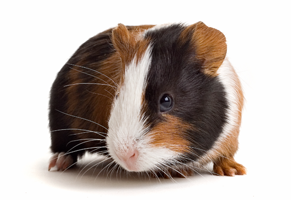 Although most Americans consider guinea pigs and hamsters as companion animals, they are two of the most extensively used animals in research and testing involving pain and distress. In 2021, nearly 200,000 guinea pigs and over 105,000 hamsters were held in labs, with 60% and 54% (respectively) in experiments causing pain, according to AAVS analysis of data released by the U.S. Department of Agriculture. Disturbingly, guinea pigs and hamsters made up 85% of all animals used in studies causing pain and distress with no pain relief.
How Guinea Pigs & Hamsters Are Used
Guinea pigs continue to be used in significant numbers for toxicity, allergy, and safety testing. Many of these tests are routinely required by governments worldwide, although alternative approaches have been validated. Guinea pigs are also used as models of infectious disease, including Ebola, influenza, and SARS-CoV-2, and in vaccine development, as well as to study respiratory diseases, immune systems, and nutrition.
Hamsters are also used as models for infectious disease, including SARS-CoV-2, respiratory disease and drug and vaccine delivery research, and various cancers. Genetically altered hamsters are used to study immunotherapy, heart disease, epilepsy, and muscular dystrophy.