Support Our Mission
Please support our vital campaigns and outreach programs.
Primates by the Numbers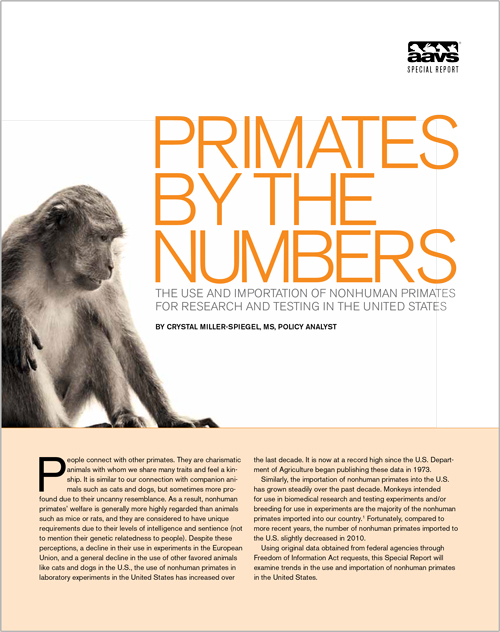 There has been a growing trend in the research industry's importation of nonhuman primates into the U.S. for use in testing and research. AAVS exposes the numbers, the participants, and the animal suffering.
Read More »
Maternal Deprivation: Experiments in Psychology, A Critique of Animal Models
This is a one-of-a-kind historical record of maternal deprivation studies that used primates and dogs as models to study human anxiety and depression from the 1950s-1970s. The report provides an overview of these highly controversial experiments, including those by notorious researcher Harry Harlow, as well as informed analysis disputing the use of baby monkeys and puppies, who are isolated from their mothers and in some instances, from all social contact.
Read the Report »
Dying to Learn
"Dying to Learn" is the result of a two-year investigation of animal acquisition and use from 92 public colleges and universities in the U.S. It reveals that 52% of colleges and universities are using live and dead dogs and cats for teaching even though viable alternatives are available and are being used by other schools. In addition, the report identifies specific schools that are obtaining animals from unethical sources.
Read More »
Genetic Engineering: Animal Welfare
Genetic engineering, particularly of animals, raises numerous concerns and is a highly controversial topic. The ethics of genetic engineering, the implications for animal health and welfare, the consequences of a genetically engineered (GE) animal escaping into the environment, the risk to human health of using products derived from GE animals, the socioeconomic ramifications, religious concerns, and consumers' rights are all weighty and complicated questions that need to be answered before allowing this technology to infiltrate our lives.
Read More »
Buyers Beware
The cloning of cats and dogs, particularly for pets, has drawn global media attention, but the serious animal suffering and disreputable activities that can go on behind the scenes of the cloning industry have largely been overlooked. A newly released report by the American Anti-Vivisection Society (AAVS) and The Humane Society of the United States (HSUS) investigates and exposes an industry fraught with questionable science and consumer deception, drawing much-needed attention to the animals and people who are being exploited for profit.
Read More »
Animal Cloning: Animal Health Risk
According to the FDA, the agency has performed this risk assessment "to determine what hazards might be introduced into animals as the result of the cloning process," "to characterize the resulting potential risks," and to place these risks "into the context of other assisted reproductive technologies currently practiced in the United States." Overall, then, the FDA states:"[T]he question that is asked is whether animals involved in the cloning process are at greater risk for any adverse outcome relative to other assisted reproductive technologies."
Read More »
Separating Facts from Fluff
This report, produced by the American Anti-Vivisection Society (AAVS), which has been monitoring the treatment of animals in laboratories since 1883, is the result of over two years of investigation and contains published statements and evidence from mainstream scientific literature explaining the dangers and concerns regarding pet cloning. While media reports often present pet cloning news as quirky and/or heartwarming, animal advocates, bioethicists, scientists, and the public have significant concerns about a variety of issues related to pet cloning.
Read More »