Support Our Mission
Please support our vital campaigns and outreach programs.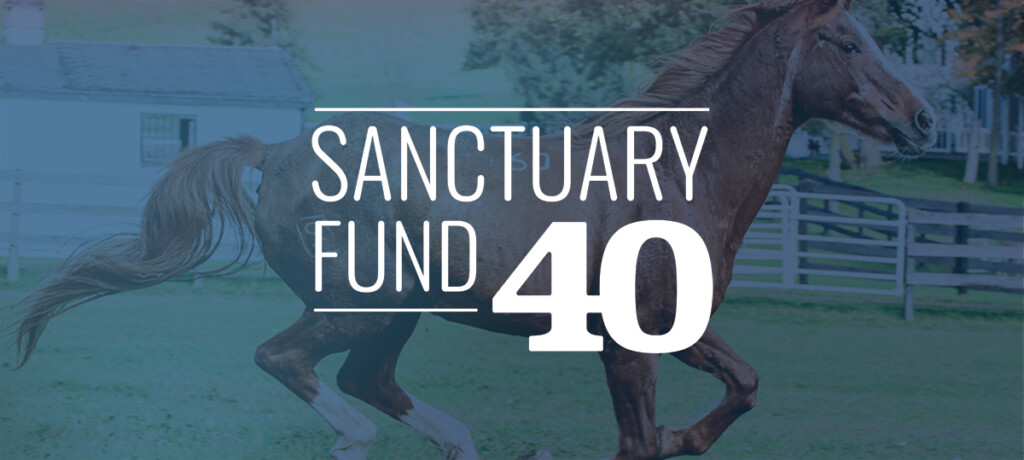 Animals who have been used and abused in laboratories need and deserve loving care, and AAVS has been contributing to that care for 40 years. Through AAVS's Sanctuary Fund, donors can support one of our most rewarding programs, providing grants to sanctuaries caring for animals who are no longer used in biomedical research and testing and have been released from labs. Plus, 100% of your donation will go towards helping these animals recover and heal in peace.
Animals retired to sanctuaries can now enjoy healthy, natural foods, stimulating environments, and, most importantly, the social companionship of their own kind. All this occurs under the watchful eyes of experienced caregivers who are also advocates for animal well-being.
AAVS has been supporting sanctuaries caring for animals released from laboratories since 1983. Thanks to our generous supporters, AAVS has awarded over $4 million to worthy sanctuaries!
Click here to contribute to the care of animals in sanctuaries
View the sanctuaries supported in 2022:
VIEW LIST
---
Meet some of the residents that AAVS helps support:
KELLI
Equine Advocates, NY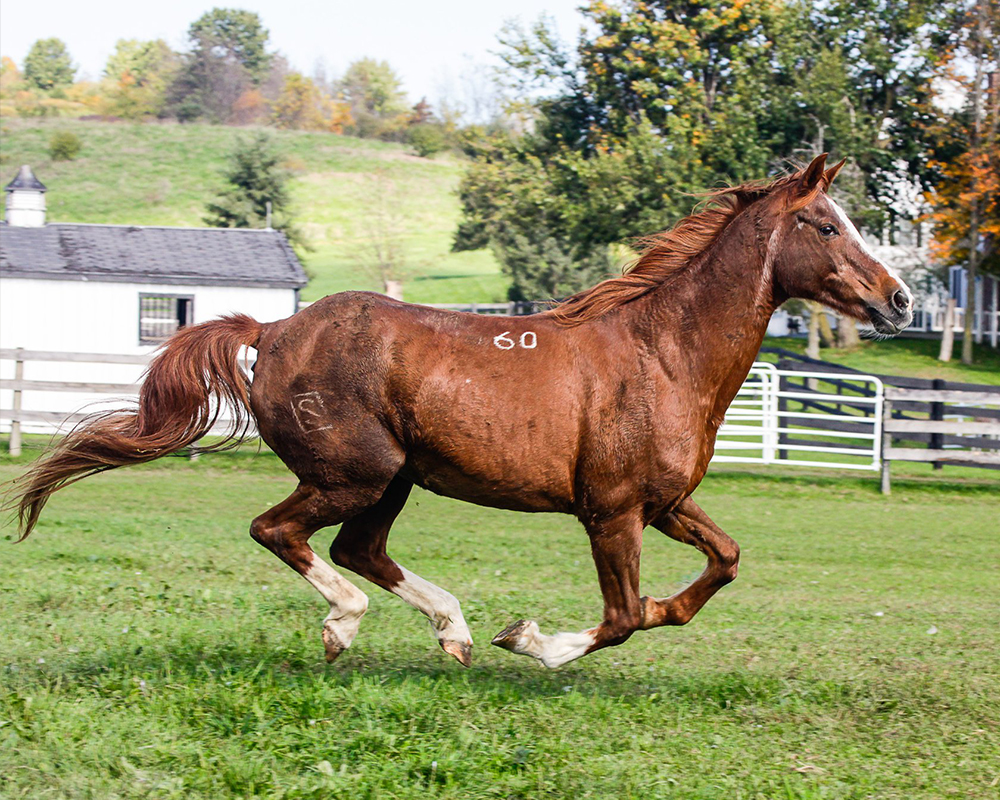 Kelli is a Saddlebred Cross horse who was held at a PMU (Pregnant Mare Urine) farm in Canada before she was rescued by Equine Advocates Rescue & Sanctuary, a longtime recipient of AAVS Sanctuary Grants. PMU is used to make hormone replacement drugs and the horses involved suffer tremendously. Kelli was continually impregnated to ensure her urine was concentrated with estrogens, and she lived months at a time confined in a small stall, attached to tubing that collected her urine. Her babies, considered to be unwanted byproducts of PMU production, were most likely taken from her and sold, possibly for slaughter.
Notice the number on her back? At the PMU farm, Kelli had no name; she was known only by her stall number, 60, which was freeze branded on her back. Kelli is an extremely shy horse, and her caretakers believe that she was probably abused at the PMU farm.
However, at Equine Advocates, Kelli is loved, and the caretakers there have worked hard to win her trust. Unfortunately, the psychological scars resulting from the abuse suffered as a 'tool' to manufacture PMU have not fully healed, and Kelli still does not totally trust people, despite being surrounded by loving caregivers at the sanctuary for several years. Kelli does enjoy the freedom she now has, though, and spends her days doing as she pleases, along with her besties Cindy and Rose in "The Canadian Club" field.
IMON
Oklahoma Primate Sanctuary, OK
Imon is a male rhesus macaque who was retired from a university laboratory where he was used in biomedical research. He was moved to the Oklahoma Primate Sanctuary (OPS) in 2002 when he was just a few years old.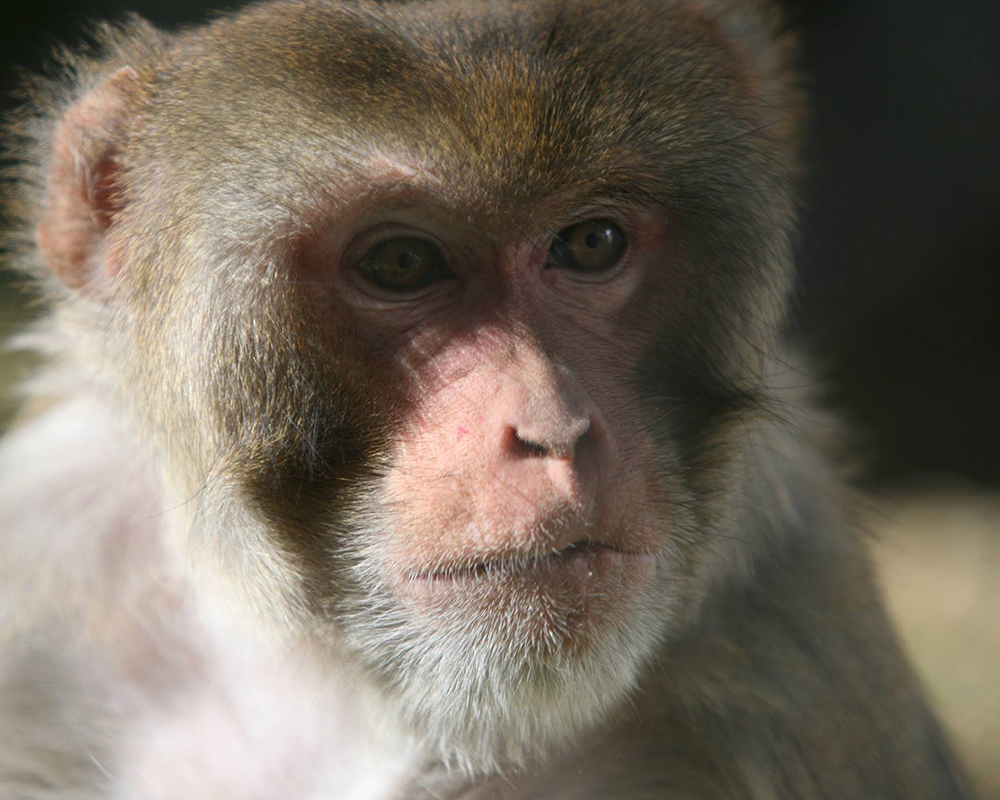 Over 110,000 primates were used and held in labs in 2017 and by far the majority of these were macaques. Thankfully, Imon's life is so much different than what it could have been in a research facility, where primates are sometimes singly housed, have few enrichment activities, and may be limited to being only indoors. But the folks at OPS, a long-time recipient of AAVS grants, has given Imon a whole new life.
Today, Imon lives with his pal Pluto, who is also a retired research monkey. Their enclosure is located by a grassy field, and Imon loves to lounge in the sun on his favorite fire hose and watch the guinea hens who often visit. He's also quite the food connoisseur, preferring to soak his monkey biscuits to just the right texture and consistency before gobbling them up. And when he's unhappy with the food choices given to him, Imon is quick to let everyone know. But most of all, say Imon's caretakers, he is content to do little more than watch the world go by. Now that's a happy retirement!
ALLIE
Center for Great Apes, FL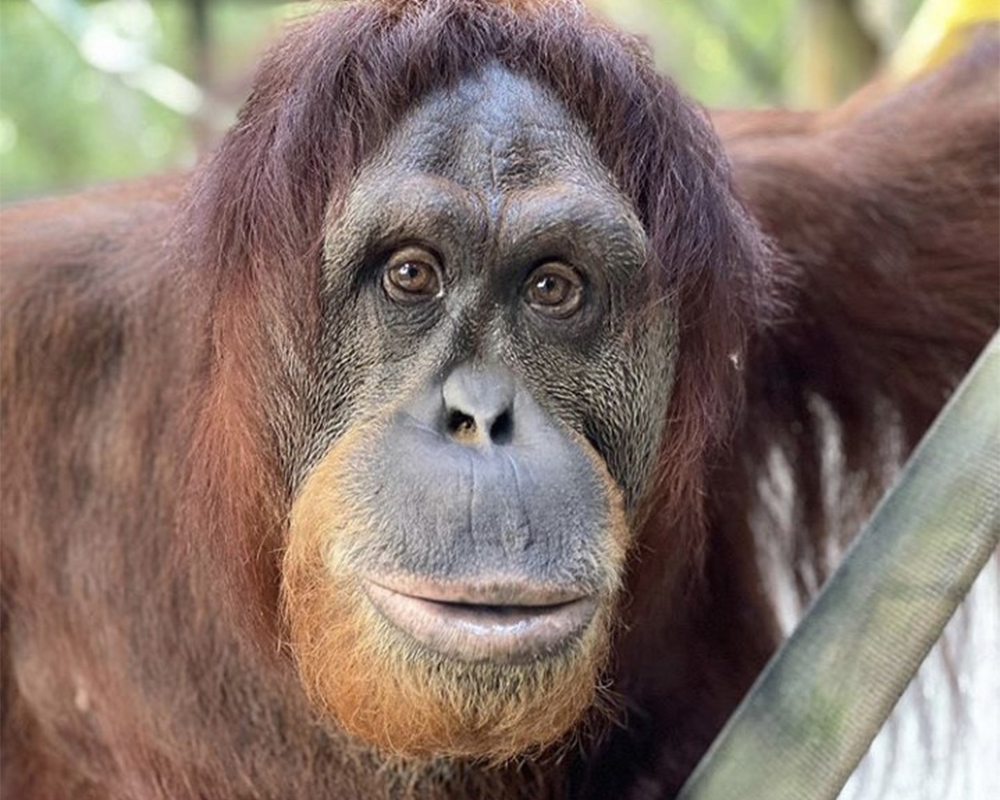 Allie was born at the Yerkes National Primate Research Center in Georgia, and then moved with her mother to the Denver Zoo. But when Allie was six years-old, her mother unexpectedly died and a few months later she was stricken with Chronic Inflammatory Demyelinating Polyneuropathy (CIDP), which has made her legs so weak, she cannot walk. Allie was later moved to the Center for Great Apes (CGA), where she would receive the care necessary to meet her special needs. Part of the AAVS grant awarded to CGA goes towards providing specialized medical care of a several disabled apes, including Allie.
Despite not being able to walk, Allie doesn't let her disability slow her down! She has strong upper body strength and uses fire hose "vines" to swing from place to place, and CGA makes sure she receives regular physical therapy and stretches that continue to help improve her mobility.
Allie's also a social butterfly and enjoys meeting the other orangutans at CGA, especially the boys! She is head over heels for Louie, a 'cheekpadder male,' and the two make a sweet couple. The sanctuary caregivers believe that Louie is aware of Allie's disability and have seen him place his hand on her back to steady her as she moves about. What a gentleman!
View a complete list of sanctuaries that received grants from AAVS in 2022.