Animals who have been used and abused in laboratories need and deserve loving care. Through AAVS's Sanctuary Fund, donors can support one of our most rewarding programs, providing grants to sanctuaries caring for animals who are no longer used in biomedical research and testing and have been released from labs. Plus, 100% of your donation will go towards helping these animals recover and heal in peace.
Animals retired to sanctuaries can now enjoy healthy, natural foods, stimulating environments, and, most importantly, the social companionship of their own kind. All this occurs under the watchful eyes of experienced caregivers who are also advocates for animal well-being.
AAVS has been supporting sanctuaries caring for animals released from laboratories since 1983. Thanks to our generous supporters, AAVS has awarded nearly $3 million to worthy sanctuaries!
Click here to contribute to the care of animals in sanctuaries.
Meet some of the residents that AAVS helps support:
Equine Advocates, NY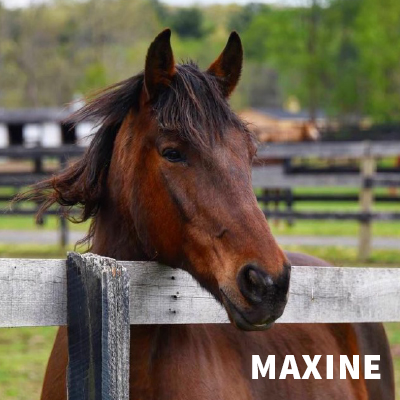 Maxine was rescued from a slaughter auction by Equine Advocates in 2000, when she was about four years old. Her rescuers saw that she had been beaten in the sales ring and was terrified. Maxine originally came from a PMU (Pregnant Mare Urine) farm, where horses are repeatedly impregnated and kept confined to stalls so their urine can be collected and used to make hormone replacement drugs. The offspring of these mares—especially the males—are considered to be of no use and usually killed.
In 2017, Maxine had a terrible case of pneumonia and since then has had respiratory problems. This old gal, who was worth so little at the auction, was taken to Cornell University College of Veterinary Medicine to get the best care available. The respiratory specialist recommended a nebulizer to administer medication into her lungs, and also that Maxine live in an environment as free of dust as possible. That's no easy task on a farm!
AAVS funding has been used to provide Maxine a living space designed specifically to meet her medical needs, so that she is happy and comfortable. It took time for Maxine to overcome the abuse she experienced earlier in life, but she now enjoys her life at Equine Advocates with her friends, Dolly, Queen and Zoe, in the "Full Figured Girls" pasture.
NICOR
Jungle Friends, FL
Nicor is a cotton-top tamarin who arrived at Jungle Friends with nine other special needs primates from the University of Wisconsin, where he was used in cognitive studies. Born in 2002, Nicor's start in life was rough. When he was a baby, one of his parents bit off one of his feet, four toes on the other foot, and half his tail! And despite suffering that trauma, Nicor was still used in research.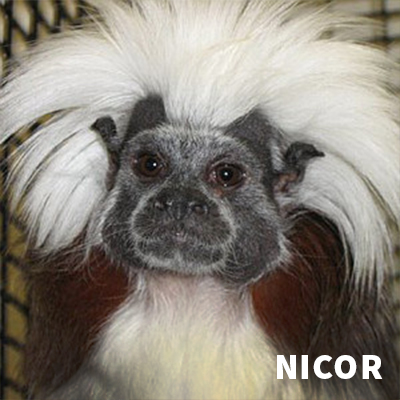 Living in a lab for six years, Nicor has been through a lot. When he faced the possibility of being used in an invasive experiment, a researcher decided to not subject him, along with several others, to such cruelty, and retired them all instead.
The folks at Jungle Friends say that, although Nicor was initially cautious of his new surroundings, he now revels in his freedom. Nicor has developed upper body strength to compensate for his missing limbs, and he loves to be outside, so much so that he sometimes chooses to sleep in the hammock outside his indoor enclosure.
No longer a tool for science, Nicor is free to love the great outdoors!
NEGRA
Chimpanzee Sanctuary Northwest, WA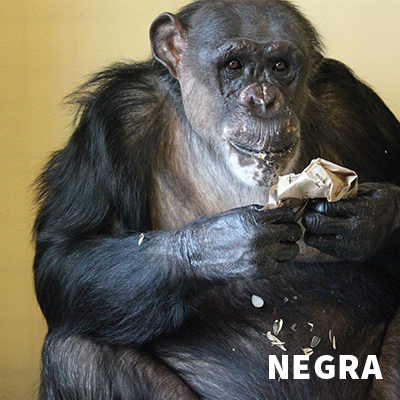 Negra began her life in Africa (estimated 1973) and all the adults in her family were likely killed so that she and any other babies could be captured and sold. The dealer who owned her 'leased' Negra to a U.S. research facility in 1982. In January 1984, she gave birth to her first baby, Heidi, who was taken away immediately after birth. In 1985, Negra's second baby, Angel, was allowed to stay with her for five days, but then was also taken away.
In 1986, Negra was (mistakenly, it turned out) suspected of having a contagious disease because of severe intestinal symptoms and removed from her companions. She spent 21 ½ months in total isolation in a tiny cage, undergoing test after test, each time being 'knocked down,' which means that a lab technician shot her with a dart gun full of anesthesia. Finally released from quarantine, Negra became pregnant again, and gave birth to a boy, Noah, who was taken away immediately. Then, she was used in a research project that involved injecting a serum in her leg multiple times and surgery to test the lymph nodes near the injection site.
In 1996, Negra returned to a Pennsylvania facility, not far from the offices of AAVS. In 2007, her release was finally obtained, along with the six remaining chimpanzees at the facility, and they made the trip to their new home in Washington state.
Today at Chimpanzee Sanctuary Northwest, Negra lives peacefully, and contentedly, healthy in mind and body. Her remarkable story of recovery has inspired so many. AAVS and her caregivers are absolutely committed to her continued comfort and joy.
View a complete list of sanctuaries that received grants from AAVS in 2018.