Support Our Mission
Please support our vital campaigns and outreach programs.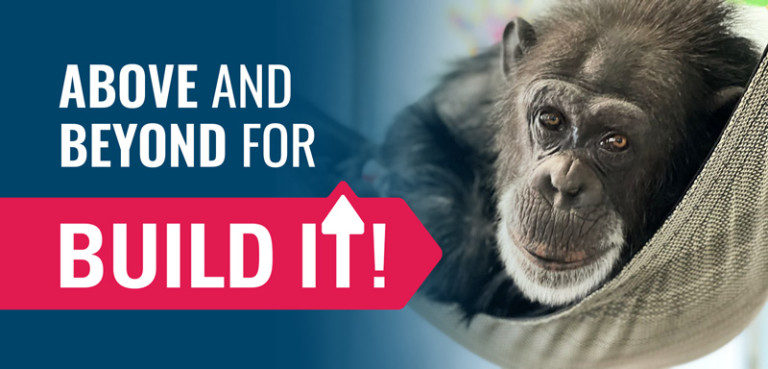 Photo: Maude – © Center for Great Apes
Congratulations! Thanks to your overwhelming generosity, AAVS was able to not only meet, but surpass our BUILD IT! Campaign matching gift challenge goal. We are immensely grateful for all the individual gifts received for BUILD IT!, along with $50,000 in matching funds from generous benefactors. All combined, the donations total an incredible $100,000!
The recipients of this year's campaign funds are the Center for Great Apes and Chimp Haven. And there's been exciting news recently—eight chimpanzees traveled 2,600 miles from the Wildlife Waystation in California to their new home at the Center for Great Apes in Florida, arriving just before Thanksgiving. The 'Great Eight' group—Billy, Ewok, Josh, Maude, Sabina, Mystery, Sha Sha, and Jeeter—rode comfortably in a specialized transport vehicle that was custom built so they could each have a window seat.
The Great Eight are all doing very well in a spacious night house built with the help of prior AAVS BUILD IT! Funds. And support from this year's campaign will be used to complete construction of interior climbing structures and chutes to connect the night house to the chimps' outdoor habitat.
However, 18 chimpanzees still remain at the Wildlife Waystation. Fortunately, this year's BUILD IT! funds will help Chimp Haven construct new habitats to accommodate 11 of those chimps, scheduled for transfer in the spring of 2022.
AAVS's 2021 BUILD IT! Campaign officially ends today, but there is still time to make a donation.
We will continue our efforts until all the chimpanzees at the Wildlife Waystation have been moved to accredited sanctuaries.
Thanks to caring people like you, these chimps will enjoy a safe and secure future in new homes. YOU make our work possible; YOU make a difference. THANK YOU!