Support Our Mission
Please support our vital campaigns and outreach programs.
Not Just Any Chimp – Kareem's Story

Kareem Is A Survivor
Like so many chimpanzees born in research facilities, Kareem was pulled from his mother when just a few days old and raised by humans in a lab nursery, trusting in their care. When he grew older, because of his apparent physical and psychological strength, he was shipped off to a notorious research facility.
Over nearly three decades, Kareem would be separated from friends, and subjected to multiple biopsies and experiments in laboratories in four different states.
But the power of his personality helped him forge social connections with other chimps and caretakers. Somehow, he survived.
Please support AAVS's BUILD IT! Campaign and help ensure that all of Kareem's friends reach their new, permanent home at Project Chimps.
Kareem is a marvel: big and strong, inside and out. Perhaps because of that, he survived his terrible ordeal. In 2018, he arrived at Project Chimps and is an alpha male in his group; he's a natural.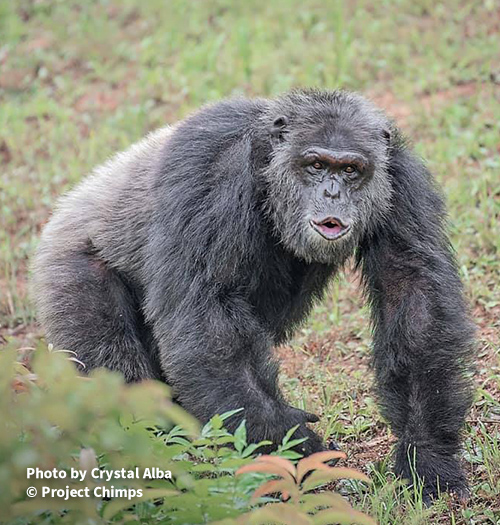 Kareem enjoys…
Being the boss
Sharing food
Having fun with friends
Kareem is only one of the chimps who deserve to retire to a safe, healthy environment. A hundred others are waiting. You are the key to success.
Along with new homes, your contribution will also ensure that the chimpanzees coming from NIRC will enjoy wholesome foods, stimulating environments, and, most importantly, the social companionship of their own kind. As expenses have risen everywhere this past year, food, housing, medical care and enrichment activities for one chimpanzee in sanctuary now cost as much as $22,000 annually, and life expectancies are 50 years or longer.
Together we can do this! Thanks to a few generous AAVS donors, every contribution received for this year's BUILD IT! Campaign will be DOUBLED. Any amount you can give is worth twice as much!