Support Our Mission
Please support our vital campaigns and outreach programs.
To Know Them is to Love Them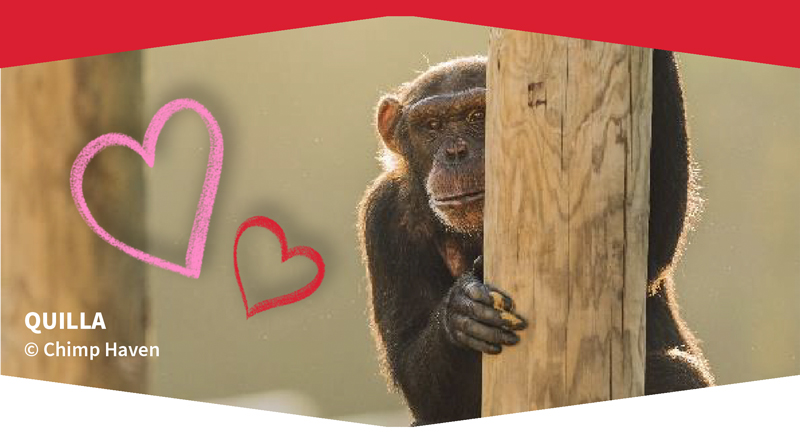 Happy Valentine's Day from AAVS!
Ahh, Valentine's Day - symbolized by Cupid, red roses, candy hearts, boxes of chocolate, and… chimps! At this time every year, AAVS sends our annual grant to the Chimp Haven sanctuary in fulfillment of our commitment to provide Total Lifetime Care for seven chimpanzees who arrived there as babies in 2013.
The TLC youngsters continue to grow and mature (sort of), much to the delight of the Chimp Haven staff. Here's what they've been up to:
Mason (age 12): has emerged as the frontrunner for alpha male in his group, and clearly enjoys his new position of power, if not the responsibilities that come with it.
Jimmy (age 12): maintains his laidback style, and enjoys roughhousing with Mason and walking along the moat.
Arden (age 12): sweet and smart, she is very adept and climbing trees, and loves spending time with her mom, Passion.
Diane (age 12): continues to develop independence, while her mischievous behavior is rubbing off on impressionable cousin Carlee.
Onyx (age 11): despite increasing confidence, she also tends to be somewhat reserved, needing time to warm up to human friends. But she loves cuddling with her mom, Bumble.
Quilla (age 11): is growing more fearless and socially savvy, and the staff are delighted by her running, jumping, playing, and wrestling.
Riley (age 10): this future alpha male remains a rambunctious troublemaker, and loves playing with Quilla and hanging out with mom, Nina.
Chimpanzees can live into their 60s, so we have many more years ahead to make sure that these fortunate seven "tweens", who were some of the last chimpanzees born in a lab, enjoy the lives they deserve. Chimp Haven has done a wonderful job, providing expert veterinary care, healthy foods prepared daily, multi-acre forested habitats to explore, and large, dynamic social groups.
Through your support of our TLC for Chimps Fund and Sanctuary Fund, you make a difference for over 300 residents at Chimp Haven, as well as for thousands of other animals in sanctuaries throughout the U.S.
THANK YOU!
You can see several members of this group in National Geographic's documentary series, "Meet the Chimps," available to stream on Disney+.