Support Our Mission
Please support our vital campaigns and outreach programs.
Thinking of fish on World Day for Animals in Labs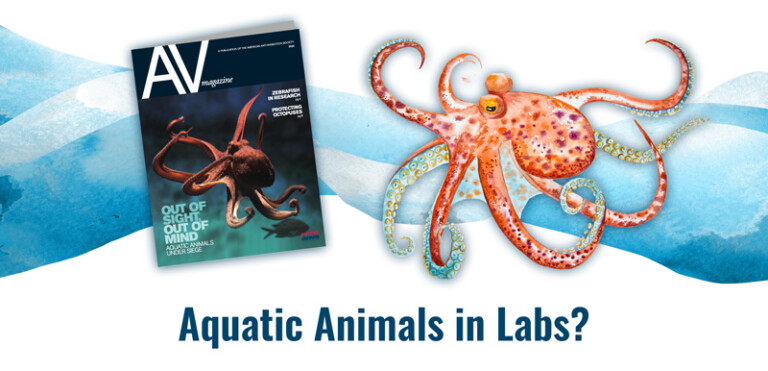 World Day for Animals in Laboratories was created so advocates everywhere could unite to draw attention to the suffering of animals used in research and testing. This year, AAVS is focusing on some of the most vulnerable—but less talked about—animals in labs: fish. Although they're used by the hundreds of thousands, fish and other aquatic animals in labs are not covered under the U.S. Animal Welfare Act as dogs, rabbits, and monkeys are. Yet they still suffer needlessly.
"Out of Sight, Out of Mind: Aquatic Animals Under Siege" brings together experts to expose the overlooked exploitation of these animals, point to problems that need to be solved, and note progress being made to help them. From proposed legal protection for octopuses in research to the use of horseshoe crabs in labs (and its effect on ecosystems) to the complexities of fish behavior, this captivating issue of the AV Magazine is a must read!
An effective advocate for animals is one who is equipped to take action with knowledge and motivation. On this World Day for Animals in Laboratories, please help make a difference by learning and then inspire others by sharing what you know. The more who are aware, the more who will care!